Palmer-Donavin Names Tom Bartlett Vice President of Operations

Palmer-Donavin continues to build unity among divisions and names Tom Bartlett Vice President of Operations.
Robyn Pollina, CEO of Palmer-Donavin shared, "The executive team has added Tom Bartlett to serve as our new Vice President of Operations, as we continue the journey of bringing our leadership team together as one. Our operations team is critical to our future strategic success, and we welcome Tom's insights and knowledge as a member of the executive team."
At the start of the year, the company announced an organizational restructure with the integration of customer service teams and sales management. The updates have proven to offer the desired results and enabled the team to leverage strengths between the building materials and door divisions. To continue the integration, an executive level operations position was developed, and Tom Bartlett has assumed the new role of Vice President of Operations.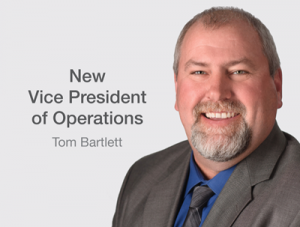 "I'm excited about Tom's new role and added responsibility," said Matt Butzier, COO of Palmer-Donavin. "Tom brings a wealth of experience and an excellent track record of developing processes and procedures that focuses on continued improvement and employee development. Tom will help to unify our operations teams while focusing on the singular goal of servicing our customers' changing needs."
Tom Bartlett added, "While there are two distinct models for our divisions, the goal is to achieve economies of scale. We plan to build on our synergies, develop best practices, and achieve more efficient processes. These, among other initiatives, will allow us to continue to be a leader in our industry and offer best-in-class customer service."
About Palmer-Donavin
For more than 100 years, Palmer-Donavin has been committed to providing exceptional customer service. A leader in building material distribution and door fabrication, we are built from employee owners who believe in putting in the hard work to earn relationships one order at a time. Our tagline is "We Deliver More™" — products, expertise, and solutions that help our customers succeed. Learn more at palmerdonavin.com.
Contact:
Jenna Koenig – Digital Marketing Specialist – jenna.koenig@palmerdonavin.com
Source: The Palmer-Donavin Manufacturing Company