RONA Dryden Celebrates Its Grand Opening Following Major Renovations
Lowe's Canada joins Lori and Marc Palsson to celebrate the official grand opening of their new RONA home improvement centre located at 329 Government Street in Dryden, Ontario. Since acquiring the store in March 2021, the Palssons have proceeded to extensive renovations to provide local homeowners and contractors with a welcoming one-stop-shop where they can find everything they need for their construction and home improvement projects. The store, which has been serving the Dryden community for over 40 years, now features a brand new seasonal sales area, as well as a Kitchen, Bath and Appliance Centre. These renovations represented a local investment of approximately $1 million and led to the creation of new jobs in the community.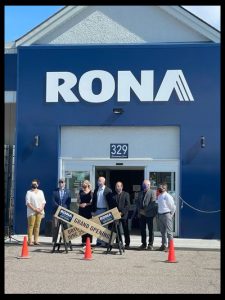 "We are extremely happy to start welcoming customers in our new space as the province progressively reopens. All the safety measures are in place and we are ready to greet the local community in person again," said Marc Palsson, Owner and President of RONA Dryden. "We are so thankful for the hard work our staff has done to serve our customers via our curbside pickup service throughout the province-wide lockdown, all amid our renovation process. We have an outstanding team and we are glad to count on our people to help us bring the best possible shopping experience to local homeowners and contractors."
"RONA Dryden is Lori and Marc's third RONA location and, based on the amazing things we've seen from them over the years, I know they will bring exceptional value and service to residents of the area," adds Philippe Element, Vice-President, Sales and Affiliated Dealer Support.
To celebrate the grand opening of RONA Dryden, the Palssons and their team held, earlier today, a socially distanced board cutting ceremony with local elected officials and members of the Lowe's Canada affiliated dealer team. As a thank you to the community for its support and loyalty throughout these past few months, the store is also offering a free gift to the first 25 customers to make a purchase on June 25, 26, and 27. All customers who make a purchase on those dates will also receive an entry for the draw of a $500 RONA gift card.
To share this news on social media, please use @Lowe's Canada (LinkedIn) and @LowesCanadaCorp (Twitter).
About RONA
Founded in 1939, RONA is a banner of Lowe's Canada, one of Canada's leading home improvement retailers headquartered in Boucherville, Quebec. Spanning the entire country, the vast network of more than 375 RONA stores includes both corporate stores and independent affiliated dealer stores. Known for its large in-store and online product offering, RONA also provides expert support and advice to its retail and professional customers for their construction and home improvement projects. For more information, visit rona.ca or follow us on Twitter, Facebook, Instagram, Pinterest, and YouTube.
About Lowe's Canada
Lowe's Companies, Inc. (NYSE: LOW) is a FORTUNE® 50 home improvement company serving approximately 20 million customers a week in the United States and Canada. With fiscal year 2020 sales of nearly $90 billion, Lowe's and its related businesses operate or service more than 2,200 home improvement and hardware stores and employ over 300,000 associates. Based in Boucherville, Quebec, Lowe's Canadian business, together with its wholly owned subsidiary RONA inc., operates or services some 470 corporate and independent affiliate dealer stores in a number of complementary formats under different banners, which include Lowe's, RONA, Reno-Depot, and Dick's Lumber. In Canada, they have more than 26,000 associates, in addition to approximately 5,000 employees in the stores of independent affiliate dealers operating under the RONA banner. For more information, visit lowescanada.ca.
Source: Lowe's Companies Canada ULC