Xactware Publishes July 2021 Price List
The July 2021 price list updates for more than 460 regions in the United States and Canada are now available for download.
Pricing research for the July 2021 publication shows that average costs for labor and materials used in claims and remodeling increased in all key pricing components. Since our June 2021 publication, the Common Lumber Material report showed an increase of 2.99 percent in the United States and 6.57 percent in Canada, and since July 2020, the Common Lumber Material report showed an increase of 162.66 percent in the United States and 142.47 percent in Canada.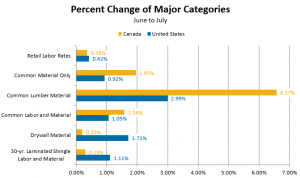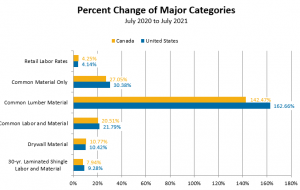 All reported percent changes are based on the averages that have been reported either since the June 2021 price list publication or from July 2020 to July 2021. The information reported here is based on a national average, and it is important to note that actual changes will vary within each pricing market. It is also important to remember that Xactware's published pricing information is based on recently completed surveys and estimate transactions.
For more information about these trends over a longer period of time, read the Quarterly Pricing Trends or the Annual Property Report.
Lumber Increases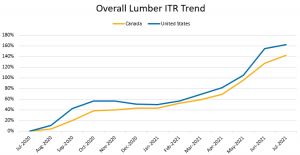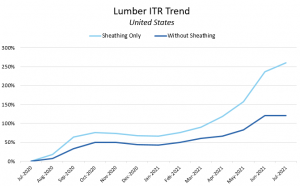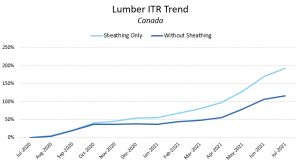 Since July 2020, lumber prices have dramatically increased 162.66 percent in the United States and 142.47 percent in Canada. A continual shortage of common lumber materials and high demand in the construction industry (including DIY builders) has accelerated prices for these building materials in the market.  With this shortage of supply, prices for certain common lumber materials have rapidly increased. For example, sheathing materials have shown to be more volatile while following the upward trend, increasing 260.53 percent in the United States and 193.18 percent in Canada during the same time period. Xactware is actively monitoring lumber materials and making warranted adjustments from focused surveys with suppliers for each monthly price list publication.  For articles with additional information on lumber cost increases click here.
Personal Protective Equipment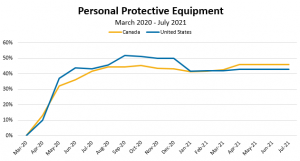 Due to the impacts of COVID-19, Xactware is closely monitoring the cost of personal protective equipment (PPE). Since March 2020, the average national cost of PPE items increased 42.75 percent in the United States and 45.84 percent in Canada. Xactware will continue to monitor this situation and report changes as they arise.
Local market conditions
Xactware makes every effort to ensure pricing information contained in this update represents market costs at the time of publication. Since actual market prices can vary and change rapidly, and many factors can affect the cost of a project (including—but not limited to—labor, equipment, and material costs as well as the rates and application of sales tax), we strongly recommend customers monitor their local markets for any such changes and adjust their estimate pricing as deemed appropriate.
Gasoline prices in the U.S. and Canada
Since the June 2021 publication, gasoline prices increased 2.11 percent in the United States and increased 4.12 percent in Canada. When compared to July 2020, gasoline prices have increased 42.18 percent in the United States and 31.04 percent in Canada.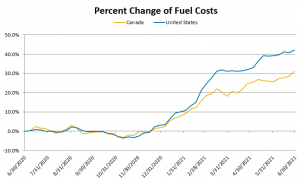 Because gasoline prices can change rapidly, Xactware recommends users monitor their local costs to determine whether repair or construction costs are affected. For further details, see the U.S. Department of Energy website.
U.S.
Canada*
Jun. 28, 2021
May. 31, 2021
Jun. 29, 2021
Jun. 1, 2021
Gasoline National Average
3.091
3.027
1.389
1.334
* Canada prices are per liter
XactContents pricing update
Since the last price list update, the XactContents pricing team continued to improve the master item list in both the United States and Canada.
U.S.
| | |
| --- | --- |
| Vendors | 145 |
| General Quote Items | 6,382 |
| Master Item List Items | 53,695,926 |
| Retired Items | 384,332 |
Canada
| | |
| --- | --- |
| Vendors | 45 |
| General Quote Items | 6,359 |
| Master Item List Items | 4,035,214 |
| Retired Items | 333,217 |
Changes to the July price list
We added new items to the July price lists under the following categories:
-DRY (Drywall) – Item added for a shaft wall liner.
-EQC (Misc. Equipment – Commercial) – Items added for air curtains.
-FRM (Framing & Rough Carpentry) – Item added for vinyl deck membrane.
-ORI (Ornamental Iron) – Items added for additional sizes of ornamental iron fencing.
-RFG (Roofing) – Item added for an exhaust cap for PVC/TPO roofing.
-SFG (Soffit, Fascia, & Gutter) – Item added for a gutter splash guard.
-WTR (Water Extraction & Remediation) – Items added for tearing out floating floors with no bagging, tearing out cement board, and an infrared heat panel.
Customers can view price list modifications on the eService Center. XactAnalysis customers can see this same report by selecting the Price List Changes report in the Industry Trend Reports.
Pricing feedback
Pricing feedback is one of the ways Xactware ensures that the reported cost information reflects actual market prices. Users writing estimates outside program work can return feedback by regularly running the feedback utility within Xactimate, XactRemodel, or XactPRM. Visit our web page for more information about submitting pricing feedback or check out our Xpert Tip on how to submit feedback in Xactimate.
More information
Xactware's pricing database is the foundation for many of our products. You can download a price list in Xactimate and XactRemodel, or assign a price list in XactPRM.
For more information about managing price lists, click Help in any Xactware product.
For information on how to change pricing in Xactimate, watch our Xpert Tip.
About Xactware Solutions, Inc.
Xactware Solutions provides computer software solutions for professionals involved in estimating all phases of building and repair.
Source: Xactware Solutions, Inc.