Lowe's Canada presents $400,000 as part of the 25th Tour CIBC Charles-Bruneau

Lowe's Canada, one of Canada's leading home improvement retailers operating or servicing some 470 corporate and affiliated stores under different banners, is proud to be a major partner of the Charles-Bruneau Foundation, once again this year, to support pediatric cancer research in Quebec. Thanks to the generous participation of over 15 of its suppliers, as well as the successful fundraising campaign led by its cycling team, the organization presented a $400,000 cheque to the foundation as part of the 25th Tour CIBC Charles-Bruneau.
"If the last 18 months have taught us anything, it's how important it is to have access to high-quality healthcare. In this context, we are particularly pleased to once again be a Diamond Partner of the Tour CIBC Charles-Bruneau and to financially support cutting-edge pediatric hemato-oncology research," said Jean-Sébastien Lamoureux, Senior Vice-President, Public Affairs, Asset Protection and Sustainable Development at Lowe's Canada.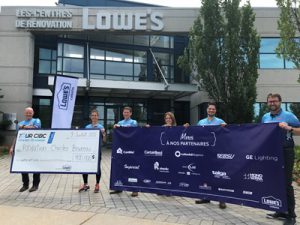 The 57 cyclists of the Lowe's Canada team took part in various treks of the Tour this week, including the 50 km, the 80 km, the 141 km, and the remote tour. Notwithstanding the social distancing, the atmosphere was just as festive at the starting line early this morning as most participants were getting ready to tackle their challenge. After pedalling for the cause on the Montérégie roads, they witnessed the results of their efforts at the unveiling ceremony.
3.4 million times thank you
Since the beginning of its partnership in 2015, the Lowe's Canada family has raised over $3.4 million to support the Fondation Charles-Bruneau's cause through various fundraising campaigns, as well as partner and corporate donations. Lowe's Canada has also confirmed its participation in the 26th edition of the Tour, as well as its continued partnership with the foundation.
"Since the beginning of our partnership, our associates have translated their desire to serve their communities by supporting the cause. All involved, whether cycling or working to maximize our contributions, impress me with their level of commitment to providing a healthy future for children with cancer, and I want to thank them for their past, present, and future efforts. I would also like to acknowledge the generosity of our suppliers, our cyclists' loved ones, and all the donors who have contributed to the success of our fundraising campaigns."
To share this news on social media, please use @Lowe's Canada (LinkedIn) and @LowesCanadaCorp (Twitter).
About Fondation Charles-Bruneau
Fondation Charles-Bruneau has just celebrated 30 years of involvement in the field of pediatric cancer. Since its inception, the foundation's mission has been to give all children with cancer improved chances of recovery. Following investments of more than $40 million, specialized Charles-Bruneau units have been set up at the four university hospitals in Quebec that treat children with cancer: CHU Sainte-Justine, the Montreal Children's Hospital, CIUSSS de l'Estrie-CHUS and CHU de Québec-Université Laval. With the financial commitments announced in 2021, the investments in research will total $55 million since the foundation's creation, making it the leading funder of pediatric hemato-oncology research in Quebec.
About Lowe's Canada
Lowe's Companies, Inc. (NYSE: LOW) is a FORTUNE® 50 home improvement company serving approximately 20 million customers a week in the United States and Canada. With fiscal year 2020 sales of nearly $90 billion, Lowe's and its related businesses operate or service more than 2,200 home improvement and hardware stores and employ over 300,000 associates. Based in Boucherville, Quebec, Lowe's Canadian business, together with its wholly owned subsidiary RONA inc., operates or services some 470 corporate and independent affiliate dealer stores in a number of complementary formats under different banners, which include Lowe's, RONA, Reno-Depot, and Dick's Lumber. In Canada, they have more than 26,000 associates, in addition to approximately 5,000 employees in the stores of independent affiliate dealers operating under the RONA banner. For more information, visit lowescanada.ca.
Source: Lowe's Companies Canada ULC