PPG Reports Second Quarter 2021 Financial Results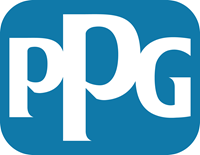 PPG (the "company") reported second quarter 2021 net sales of approximately $4.4 billion, approximately 45% higher than the prior year. Selling prices increased by 3.5% and sales volumes were higher by approximately 24% in comparison to the previous year. Favorable foreign currency translation impacted net sales by about 6%, or about $185 million, and acquisition-related sales added more than 11% year over year.
Second quarter 2021 reported net income was $431 million, or $1.80 per diluted share, and adjusted net income was $465 million, or $1.94 per diluted share. Adjusted figures exclude after-tax items, including acquisition-related amortization expenses of $31 million and other items totaling to $3 million of expense, primarily related to environmental matters, income from legal settlements, decrease in allowance for doubtful accounts, natural disaster-related expenses, other acquisition- and integration-related costs, and a charge related to the U.K. statutory tax rate change. Second quarter 2020 reported net income from continuing operations was $99 million, or $0.42 per diluted share, and adjusted net income from continuing operations was $258 million, or $1.09 per diluted share. The second quarter 2021 reported and adjusted effective tax rates were about 27% and 23% respectively, compared to the second quarter 2020 reported and adjusted effective tax rates of about 23% and 25% respectively. Detailed reconciliations of the reported to adjusted figures are included below.
"Our strong organic sales growth reflects a partial demand recovery from the pandemic, including above-market contributions across many of our businesses. However, our volume growth was significantly tempered due to various supply and component disruptions, including those that reduced the overall manufacturing capability of our customers. In addition, despite strong underlying end-use market demand, various coatings raw material shortages and logistics issues reduced our ability to fully supply our existing order book within the quarter. Our recent acquisitions also contributed to our strong year-over-year sales growth, and they are meeting our expectations," said Michael H. McGarry, PPG chairman and chief executive officer.
"While we delivered solid adjusted EPS in the second quarter, our results were below our April forecast. In addition to the top-line impact from the supply disruptions, we experienced continual increases in raw material and transportation costs throughout the quarter. We actively implemented additional selling price increases during the quarter and our pace of price realization is well ahead of the most recent raw material inflation cycle in 2017-2018. In addition to further selling price increases, we delivered about $40 million of structural cost savings from business restructuring programs and have increased our targeted, full-year 2021 savings by about 10%, to $135 million. We also continued our outstanding cash flow generation which year to date is about $600 million, or about $250 million higher than 2020.
"We continue to proactively manage various supply chain disruptions, which we now expect will likely persist through the third quarter. As a result, we expect that aggregate input and logistics costs will be sequentially higher in the third quarter, compared to the second quarter. We continue to prioritize further selling price increases, which we expect will fully offset raw material cost inflation before the end of 2021, on a run-rate basis. Overall economic demand growth remains very broad and robust and, as supply conditions normalize, we expect strong sales growth later this year and into next year aided by our technology advantaged products, our diverse geographic and end-use market participation, and continuing recovery from our aerospace business. As is PPG's hallmark, we will continue to aggressively manage all aspects of our cost structure," added McGarry.
"Finally, I am pleased that we closed the Tikkurila, Wörwag, and Cetelon transactions during the second quarter. We have now completed five acquisitions since December 2020, and we welcome all of our new colleagues to the PPG team. Our well-experienced teams are rapidly integrating these acquisitions, and we are beginning to realize initial synergies. These acquisitions have greatly improved our product and technology portfolios, geographic reach, and sustainability capabilities. In aggregate, these acquisitions bring more than 10% sales growth, based on 2019 levels, and strong earnings growth potential. I want to thank all of our employees around the world for their dedication and commitment to doing better today than yesterday, every day, in our efforts to continuously improve our company," concluded McGarry.
Second Quarter 2021 Reportable Segment Financial Results
Performance Coatings Segment
Architectural coatings – Europe, Middle East and Africa (EMEA) year-over-year net sales, excluding the impact of currency and acquisitions (organic sales), increased by a mid-teen percentage, as some sequential softening for do-it-yourself (DIY) products was more than offset by strong demand for architectural trade products. Organic sales within the architectural coatings – Americas and Asia Pacific business were down by a low-single-digit percentage year over year, with differences by channel and region. Sales volumes were unfavorably impacted by raw material availability and easing of elevated demand for DIY products versus a difficult prior year comparison related to the pandemic's impact on this end-use market. Demand for architectural trade products continues to improve and PPG customers are reporting higher-than-normal backlogs. In Mexico, the PPG-Comex architectural coatings business grew organic sales by a mid-teen percentage, as sales activity through the concessionaire network remained strong. Sales volumes in protective and marine coatings were up a low-teen percentage, led by strong PPG protective coatings growth in China and demand recovery in other regions. Aerospace sales volumes were up by a low single-digit percentage, as commercial aftermarket activity began to recover off a low base, and demand for PPG aerospace military applications remained solid. Sales volumes for automotive refinish coatings were up by about 45% aided by an easier sales comparison to the second quarter 2020, and were up a low single-digit percentage sequentially as body-shop activity continues to gradually improve. Traffic solutions represented a vast majority of the acquisition-related sales.
Industrial Coatings Segment
PPG automotive original equipment manufacturer ("OEM") coatings sales volumes rose by about 75%, with differences by region, and remained above global industry automotive production rates. Global industry automotive production rates continue to be severely reduced by computer chip shortages, and U.S. automotive dealership inventory and rental car fleets remain well below historical levels. Sales volumes for the industrial coatings business continued to improve, increasing by nearly 50% year over year and about 10% sequentially, as global industrial demand continues to broadly recover. Packaging coatings sales volumes increased by a high-single-digit percentage year over year, driven by the packaged beverage can segment.
The company had cash and short-term investments totaling approximately $1.3 billion at the end of the quarter and net debt of $5.9 billion. The Tikkurila, Cetelon, and Wörwag acquisitions were funded through a combination of existing cash on hand and external financing.
In addition, the company today reported the following projections for the third quarter 2021 based on current global economic activity, broadening customer production limitations due to global computer chip shortages, continued coatings raw material supply constraints and in consideration of the near-term economic uncertainty associated with the continued impact of the pandemic:
– Aggregate net sales, including acquisitions, up 21% to 23%, with organic sales growth higher by a low single-digit percentage when compared to the third quarter 2020.
– Structural cost savings from restructuring actions of about $30 million year over year.
– Corporate expenses were $52 million in the second quarter and are expected to be about $60 million in the third quarter.
– Net interest expense of $28 million to $30 million.
– The company's global ongoing effective tax rate of 21% to 23%.
– Full year adjusted earnings per diluted share between $7.40 and $7.60
The detailed supplementary prepared commentary related to the second quarter earnings information is posted on the company's investor relations website and includes comparative information to the second quarter of 2019 as additional context to the second quarter 2021 results. The pandemic had the greatest impact on the company's second quarter of 2020 financial results.
For the full second quarter results, click here.
About PPG Industries
At PPG (NYSE:PPG), we work every day to develop and deliver the paints, coatings and materials that our customers have trusted for more than 135 years. Through dedication and creativity, we solve our customers' biggest challenges, collaborating closely to find the right path forward. With headquarters in Pittsburgh, we operate and innovate in more than 75 countries and reported net sales of $13.8 billion in 2020. We serve customers in construction, consumer products, industrial and transportation markets and aftermarkets. To learn more, visit www.ppg.com.
Contact:
Mark Silvey – Corporate Communications – silvey@ppg.com – (412) 434-3046
Source: PPG Industries, Inc.