Roseburg Launches Armorite™ Exterior MDF

Roseburg Forest Products' latest innovation, Armorite Exterior MDF, joins a long line of the most highly specified MDF products in North America.
Armorite is a no-added formaldehyde MDF panel that resists moisture, rot, decay, and insects (including Formosan termites). This innovative new product was engineered with machinability in mind and provides the best performance in the market for profiling, cutting, and custom designs. Fabricators will appreciate all the design flexibility they are accustomed to with interior MDF panels, but with the additional benefit of withstanding the rigors of exterior environments, high moisture, and humidity.
Armorite is manufactured from Western softwoods and provides superior strength with less weight, ensuring easy nailing, machining, and finishing. The proprietary biocidal treatment process results in a product that conforms to the International Building Code and International Residential Code, having been evaluated for weather-, termite-, and decay-resistance; corrosion; and structural properties (ICC-ESR-4012).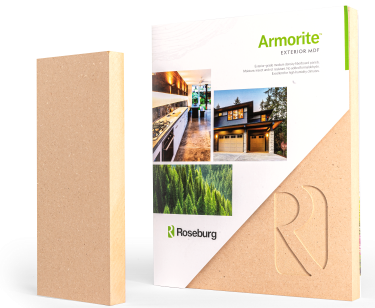 Armorite is available with the option of FSC® or SFI® certification and contains 92% pre-consumer recycled content.
Roseburg recommends the product for exterior cabinetry, countertops, signage, furniture, garage doors, shutters, raised panels, wall panels, non-structural paint-grade millwork, outdoor games and sports. The product is sold through independent distributors throughout North America and is backed by a 10-year limited warranty.
About Roseburg Forest Products
Founded in 1936, Roseburg Forest Products is a privately owned company and one of North America's leading producers of particleboard, medium density fiberboard and thermally fused laminates. Roseburg also manufactures softwood and hardwood plywood, lumber, LVL and I-joists. The company owns and sustainably manages more than 600,000 acres of timberland in Oregon, North Carolina and Virginia, as well as an export wood chip terminal facility in Coos Bay, Ore. Roseburg products are shipped throughout North America and the Pacific Rim. To learn more about the company please visit www.Roseburg.com.
Contact:
Rebecca Taylor – Corporate Communications Director – rebeccat@rfpco.com – (541) 679-2614
Source: Roseburg Forest Products Co.