Interfor Reports Record Q2'21 Results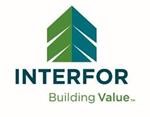 Interfor Corporation recorded Net earnings in Q2'21 of $419.2 million, or $6.45 per share, compared to $264.5 million, or $4.01 per share in Q1'21 and $3.2 million, or $0.05 per share in Q2'20. Adjusted net earnings in Q2'21 were $433.5 million compared to $270.6 million in Q1'21 and $10.6 million in Q2'20.
Robust lumber prices in North America and strong operating performance during the second quarter of 2021 led to Interfor realizing record financial results, including records for Net earnings, Adjusted EBITDA and cash flow from operations.
Adjusted EBITDA was $611.3 million on sales of $1.1 billion in Q2'21 versus $392.1 million on sales of $849.3 million in Q1'21. $484.5 million of cash flow was generated from operations before changes in working capital, or $7.46 per share.
These record financial results bolstered Interfor's balance sheet and enabled the deployment of a significant amount of capital in the quarter. Interfor's balanced approach to capital allocation included growth through a four-sawmill acquisition and strategic capital expenditures, and rewarding shareholders with returns of capital through share repurchases and a special cash dividend.
Even with a significant amount of capital deployed in the quarter, Interfor's balance sheet remains very well positioned to support further strategic investment. Net debt ended the quarter at $(490.7) million, or (46.1)% of invested capital, resulting in available liquidity of $1.2 billion.
Notable items in the quarter:
Record Production Balanced with Shipments
o Total lumber production in Q2'21 was 716 million board feet, representing an increase of 29 million board feet quarter-over-quarter and setting an Interfor production record. The U.S. South and U.S. Northwest regions accounted for 387 million board feet and 137 million board feet, respectively, compared to 338 million board feet and 141 million board feet in Q1'21. The Summerville sawmill, acquired March 12, 2021, contributed to the increased output in the U.S. South region with a full quarter of its production. Production in the B.C. region decreased to 192 million board feet from 208 million board feet in the preceding quarter.
o Total lumber shipments were 714 million board feet, or 48 million board feet higher than Q1'21.
o Interfor's average selling price was $1,419 per mfbm, up $276 per mfbm versus Q1'21. The key benchmark prices increased quarter-over-quarter with the SYP Composite, Western SPF Composite and KD H-F Stud 2×4 9' benchmarks increasing by US$113, US$384 and US$447 per mfbm to US$1,028, US$1,319 and US$1,609 per mfbm, respectively.
Strategic Capital Investments
o Capital spending was $40.6 million, including $24.2 million on high-return discretionary projects. The majority of this discretionary spending was focused on the ongoing multi-year rebuild of the Eatonton, GA sawmill, which will be substantially complete in Q4'21. Inclusive of this project, US$120.8 million has been spent on the Company's Phase II strategic capital plan through June 30, 2021.
Acquisition of Four US Sawmills and Restart of the DeQuincy, LA Operation
o On July 9, 2021, Interfor concluded the acquisition of four sawmill operations located in Bay Springs, MS, Fayette, AL, DeQuincy, LA and Philomath, OR from Georgia-Pacific Wood Products LLC and GP Wood Products LLC. The Company paid total consideration of US$372.0 million.
o This acquisition added high quality assets with 720 million board feet of annual lumber production capacity, increasing Interfor's total capacity by approximately 23% to 3.9 billion board feet.
o Interfor is restarting operations at the sawmill in DeQuincy, LA, which has annual lumber production capacity of 200 million board feet. Lumber production is expected to begin in the first half of 2022. The sawmill was idled in May 2020 by its previous owner at the outset of the COVID-19 pandemic.
Special Cash Dividend
o On May 12, 2021, Interfor's Board of Directors declared a one-time special cash dividend of $2.00 per share, which was paid on June 28, 2021 to shareholders of record on May 28, 2021. The special dividend resulted in an aggregate distribution of $130.6 million. The dividend was funded from cash on hand.
Normal Course Issuer Bid ("NCIB")
o During Q2'21, Interfor purchased 1,688,770 common shares under the Company's NCIB for total consideration of $49.4 million.
o Interfor has purchased 3,790,610 common shares for total consideration of $94.2 million since the outset of its NCIB, representing an average price of $24.84 per share, or 1.02 times book value per share at June 30, 2021. The NCIB will continue to be used to opportunistically purchase Interfor common shares at attractive prices.
Sale of Former Sawmill Property
o On July 21, 2021, the Company completed the sale of property, plant and equipment at its former Hammond sawmill located in Maple Ridge, B.C. for net cash proceeds of $40.0 million, representing $0.63 per common share outstanding at June 30, 2021. This sale contributes to the successful reconfiguration of Interfor's B.C. Coastal operations announced on September 3, 2019, which resulted in the monetization of approximately $40.0 million of working capital following the closure of the Hammond sawmill and led to increased profitability from its remaining forestry operations.
Softwood Lumber Duties
o On May 21, 2021, the U.S. Department of Commerce issued its preliminary revised countervailing ("CV") and anti-dumping ("AD") duty rates based on completion of its second administrative review for the year ended December 31, 2019. The preliminary combined rate for 2019 is 18.32%, compared to a cash deposit rate of 20.23%.
o Interfor expensed $19.2 million of duties in the quarter, representing the full amount of CV and AD duties incurred on its Canadian shipments of softwood lumber into the U.S. at a combined rate of 8.99%.
o Cumulative duties of US$158.2 million have been paid by Interfor since the inception of the current trade dispute and are held in trust by the U.S. Except for US$32.9 million in respect of overpayments arising from duty rate adjustments, Interfor has recorded the duty deposits as an expense.
Expanded Organic Growth in the U.S. South
Interfor is expanding its multi-year strategic capital plan with an additional US$230 million of strategic investments in its U.S. South platform through 2024. These investments include re-initiation of the major rebuild of the Thomaston, GA sawmill, a follow-on investment at the recently acquired sawmill in Summerville, SC, a second phase to the modernization of the Georgetown, SC sawmill, and several other targeted upgrades. In total, these investments are expected to grow annual lumber production by about 250 million board feet and further optimize conversion costs, improve lumber recovery, and enhance grade and product mix. Each project is expected to generate very attractive risk-adjusted returns at conservative lumber prices.
Interfor's total capital expenditures are expected to be approximately $175 million in 2021, up $25 million from prior guidance as certain projects have been accelerated, and likely in the range of $200 – $250 million in 2022, as the Company executes on its expanded strategic capital plans.
Wildfire Season
Significant wildfires are currently in progress in the U.S. Northwest and B.C. Interior regions in which Interfor has operations. The start of the annual wildfire season has been accelerated by abnormally dry conditions and wildfires are now impacting log harvesting activities and rail availability to varying extents across these regions; the B.C. government currently has a restriction on all log harvesting activities in the B.C. Interior. As a result, Interfor announced on July 29, 2021 supply related downtime at its B.C. Interior sawmills which will reduce lumber production by at least 50 million board feet in the third quarter of this year. Interfor is monitoring the situation closely and will take ongoing actions to protect the safety of its employees and contractors, the communities in which it operates and its assets.
Outlook
North American lumber markets over the near term are expected to remain above historical trends driven by continued strong demand from new housing starts, albeit with volatility driven by the level of demand from repair and remodel activity as the North American economy adjusts to the COVID-19 pandemic recovery.
Interfor expects lumber demand to continue to grow over the mid-term, as repair and renovation activities and U.S. housing starts benefit from favourable underlying economic fundamentals and trends.
Interfor's strategy of maintaining a diversified portfolio of operations allows the Company to both reduce risk and maximize returns on invested capital over the business cycle. While uncertainty remains as to the duration and extent of the economic impact from the COVID-19 pandemic, Interfor is well positioned with its strong balance sheet and significant available liquidity.
For the complete press release, click here.
About Interfor
Interfor is a growth-oriented forest products company with operations in Canada and the United States. The Company has annual production capacity of approximately 3.0 billion board feet and offers a diverse line of lumber products to customers around the world. For more information about Interfor, visit our website at www.interfor.com.
Contact:
Richard Pozzebon – Senior Vice President & CFO – (604) 689-6800
Source: Interfor Corporation