Cavco Industries Reports Record Fiscal 2022 First Quarter Results and Provides Further Business Updates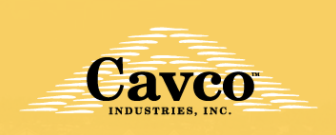 Cavco Industries, Inc. announced financial results for the first fiscal quarter ended July 3, 2021 and provides updates on other business items.
Highlights
-Recorded highest quarterly Net revenue and Net income in the Company's history at $330 million and $27 million, respectively
-Gross profit as a percentage of Net revenue increased to 22.4% and factory-built housing gross profit to 21.2%
-Earnings per diluted share was $2.92 compared to $1.80 for the same quarter last year
-Home order rates improved nearly 50% over last year's quarter
-Backlogs increased $189 million during the quarter
-Released first ever Corporate Responsibility Report
-Announced major expansion of the Fort Worth, Texas production facility and continued progress on new park model facility in Glendale, Arizona
-Announced agreement to acquire manufactured and modular home builder The Commodore Corporation
-Returned over $12.8 million to shareholders through stock repurchases
Commenting on the quarter, Bill Boor, President and Chief Executive Officer said, "Our first quarter results demonstrate the strength of our company, with record quarterly revenue and strong gross margins. The demand for our homes also remains healthy with seasonally strong order rates. We remain focused on innovation and increasing home production while navigating continuing labor and building supply challenges."
Mr. Boor continued, "We have stated that our capital allocation priorities include investing in our facilities, strategic acquisitions and returning money to our shareholders. This quarter, we have executed on all three of these through the expansion of our Fort Worth facility, our planned acquisition of The Commodore Corporation and our stock repurchase activity. Our strong balance sheet has allowed us the flexibility to move quickly with these opportunities and we will continue to explore other prospects for growth and return on capital."
Housing Demand and Production Updates
Home order rates remained strong during the first fiscal quarter of 2022, being nearly 50% higher than the comparable prior year quarter. This increased order volume is the result of more well-qualified home buyers making purchase decisions, supported by reduced home loan interest rates.
We continue to experience hiring challenges, higher and largely unpredictable factory employee absenteeism and other inefficiencies from building material supply disruptions. Accordingly, our total average plant capacity utilization rate was approximately 75% during the first fiscal quarter of 2022. Orders outpaced the challenging production environment during the quarter, raising order backlogs to $792 million at July 3, 2021, up 31.3% compared to $603 million at April 3, 2021, and up 404.5% compared to $157 million at June 27, 2020.
Planned Acquisition of The Commodore Corporation
As discussed in our July 26, 2021 press release, we entered into an agreement to acquire the business and certain assets and liabilities of The Commodore Corporation ("Commodore"), including its six manufacturing and two retail locations. Commodore is the largest private independent builder of manufactured and modular housing in the United States, operating under a variety of well-known brand names. Commodore has over 1,200 employees and operates across the Northeast, Midwest and Mid-Atlantic regions. In addition to manufacturing, Commodore also has a commercial lending portfolio with its dealers that we will acquire and continue. For the last 12 months ended March 31, 2021, Commodore generated net sales of approximately $258 million and sold over 6,600 modules, equating to over 3,700 homes.
The purchase price totals $153 million, before certain adjustments that will be determined upon close of the transaction. The estimated cash outlay is $140 million after adjustments and including transaction fees. We expect to fund the acquisition entirely with cash on hand. The transaction is expected to close in our third quarter of fiscal year 2022, subject to applicable regulatory approvals and satisfaction of certain customary conditions.
Release of Corporate Responsibility Report
The release of our first Corporate Responsibility Report represents a great milestone. In the report, we present a framework for how we think about our impact across the spectrum of stakeholders in our business. The report is divided into several focus areas: our employees, our community, our environment and corporate governance. The content of this first Corporate Responsibility Report demonstrates that, in addition to having opportunities for improvement, we have a lot to be proud of as a team of people working to make a difference. This report can be accessed in the General Documents section at https://investor.cavco.com.
For the full press release, click here.
About Cavco
Cavco Industries, Inc., headquartered in Phoenix, Arizona, designs and produces factory-built housing products primarily distributed through a network of independent and Company-owned retailers. We are one of the largest producers of manufactured homes in the United States, based on reported wholesale shipments and marketed under a variety of brand names including Cavco, Fleetwood, Palm Harbor, Fairmont, Friendship, Chariot Eagle and Destiny. We are also a leading producer of park model RVs, vacation cabins and systems-built commercial structures, as well as modular homes. Cavco's finance subsidiary, CountryPlace Mortgage, is an approved Fannie Mae and Freddie Mac seller/servicer and a Ginnie Mae mortgage-backed securities issuer that offers conforming mortgages, non-conforming mortgages and home-only loans to purchasers of factory-built homes. Our insurance subsidiary, Standard Casualty, provides property and casualty insurance to owners of manufactured homes.
Contact:
Mark Fusler – Director of Financial Reporting & Investor Relations – investor_relations@cavco.com – (602) 256-6263
Source: Cavco Industries, Inc.