Barrette Outdoor Living Expands Operations and Adds Jobs at Tennessee Manufacturing Facility
Barrette Outdoor Living recently announced plans for a significant investment to expand its 500,000 square foot facility in Bulls Gap, Tennessee.
Already one of the largest employers in Hawkins County, Tennessee, the expansion will add 162 new jobs to the area — adding a significant number of employees at the facility.
"Job creation in rural Tennessee is crucial to our state's economic success, and I thank Barrette Outdoor Living for its investment in Hawkins County," said Governor Bill Lee.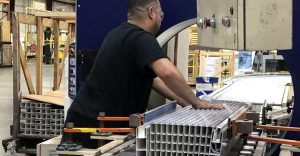 The Bulls Gap location produces the majority of Barrette Outdoor Living's vinyl fencing and railing products. Expected to be completed in December 2021, the expansion will add 40,000 square feet of manufacturing space and includes four new extruders, co-extruders and cooling tanks, as well as additional fabrication and packaging equipment.
"The state of Tennessee along with Hawkins Count, Bulls Gap and TVA have been excellent partners in our growth and we appreciate their continued support in the ongoing expansion of our business," said Gary Williams, Vice President of Operations, Barrette Outdoor Living.
About Barrette Outdoor Living
As the leading North American supplier of exterior home products to the residential market, Barrette Outdoor Living empowers homeowners to bring their personal outdoor space to life, however they envision it. Barrette Outdoor Living produces vinyl, aluminum, steel and composite fencing and railing; composite decking; and other outdoor products sold through specialty retailers, home centers and lumberyards. Barrette Outdoor Living employs more than 2,000 people at 10 locations throughout the United States and at its distribution center in Canada. For more information, visit www.barretteoutdoorliving.com.
Source: Barrette Outdoor Living, Inc.