L&W Supply Named a 2021 National Preferred Partner by David Weekley Homes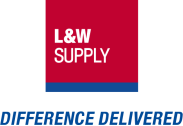 L&W Supply, a leading distributor of interior building materials and construction supplies, has been named a 2021 National Preferred Partner by David Weekley Homes, one of the nation's largest privately-held home builders. The National Preferred Partner award is a recognition of L&W Supply's commitment to world-class customer service and operational excellence across the home building industry.
"We are greatly humbled to be receiving this award for the second year in a row from David Weekley Homes, one of our top residential customer partners," says Mark Hylland, National Director for Residential Accounts. "L&W Supply is looking forward to continuing to grow and improve our ability to perform outstanding service for home builders in 2021, and beyond."
To be selected as a National Preferred Partner, David Weekley Homes assessed over 140 companies through the National Preferred Partner Survey, a system of two questions with a 1-to-5 rating system for partners. This year, L&W Supply was among the top 18% of companies highlighted as a National Preferred Partner for their ability to consistently deliver quality products and superior service to the home building industry.
"L&W Supply earns their place on the list of National Preferred Partners by truly following through on their customer promise, delivering high-quality building materials backed by outstanding support and services," says John Schiegg, Vice President of Supply Chain Services for David Weekley Homes. "L&W Supply's local teams have successfully demonstrated their ability to earn and keep their customers' trust."
David Weekley Homes implemented their annual evaluation platform to help ensure the highest level of homeowner satisfaction by optimizing channel costs and improving service. The National Preferred Partners program is designed to strengthen supply partnerships throughout the home building industry and beyond.
"I'm very proud that L&W Supply has been recognized by David Weekley Homes, a company that has consistently operated at the forefront of the home building industry," says Dan Piché, President of L&W Supply. "David Weekley Homes shares many of our same values, including our ongoing commitment to improving our services. We're looking forward to continuing to grow and strengthen our ability to make things easier for our customers."
To learn more about L&W Supply, visit lwsupply.com
About L&W Supply
Since 1971, L&W Supply and its acquisitions have been recognized as a world-class interior products company. With the USG Corporation partnership, L&W Supply has been a leading innovator in commercial and residential interior building products. L&W Supply is a leading distributor of wallboard, suspended ceiling tiles, steel studs, joint treatment, insulation, EIFS, fasteners, and related building products. Headquartered in Chicago, Illinois, L&W operates nearly 200 branches in 39 states. More information about L&W is available online at www.lwsupply.com.
About David Weekley Homes
David Weekley Homes, founded in 1976, is headquartered in Houston and operates in 19 cities across the United States. David Weekley Homes was the first builder in the United States to be awarded the Triple Crown of American Home Building, an honor which includes "America's Best Builder," "National Housing Quality Award" and "National Builder of the Year." Weekley has also appeared 15 times on FORTUNE magazine's "100 Best Companies to Work For®" list. Since inception, David Weekley Homes has closed more than 100,000 homes. For more information about David Weekley Homes, visit the company's website at www.davidweekleyhomes.com.
Contact:
Becca Vollmer – bvollmer@hiebing.com – (608) 256-6357
Source: L & W Supply Corporation