Timber Allocation Approved For Big River Sawmill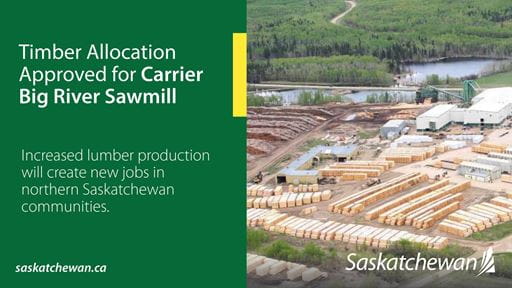 Today, the Government of Saskatchewan announced the approval of a timber allocation to support increased lumber production at the Carrier Forest Products sawmill in Big River.
"This increase in production will bring the Carrier sawmill closer to capacity and is expected to create important new jobs," Energy and Resources Minister Bronwyn Eyre said. "This is more good news for the forestry sector in Saskatchewan and will lead to enhanced economic development opportunities for Indigenous workers, northern communities and the broader provincial economy."
"Healthy forest ecosystems are the essential foundation that support a growing forest sector in Saskatchewan," Environment Minister Warren Kaeding said. "Requirements for planning, forest renewal and public engagement, along with standards to guide forest operations, will continue to ensure that forest management activities are sustained over the long term."
The several million-dollar upgrade at the Carrier Big River sawmill will facilitate Carrier's ability to increase lumber production closer to capacity on a sustained basis. The Government of Saskatchewan allocates timber through the Ministry of Energy and Resources under The Forest Resources Management Act. While the province is allocating additional timber required for this project, the majority of timber will be secured by the company through commercial agreements negotiated with Indigenous timber allocation holders and private landowners.
"The increased allocation is the critical piece for us to reach full capacity," Carrier Forest Products President Bill Kordyban said. "We acknowledge the diligence and hard work the province has done to further develop and diversify the forest industry in Saskatchewan."
Carrier is a privately owned Canadian forestry company, which operates one sawmill in British Columbia and one in Saskatchewan. The Big River mill was constructed in 2002 and acquired by Carrier in 2011. The Big River mill is the largest of three sawmills in Saskatchewan.
Contact:
Robin Speer – Energy and Resources – robin.speer@gov.sk.ca – (306) 519-5006
Source: Government of Saskatchewan