Appointment Within the Saint-Gobain Group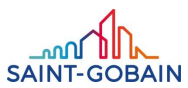 Noémie Chocat has been appointed Vice-President Corporate Strategy of the Saint-Gobain Group, as of October 1, 2021. She will report to Sreedhar N., Chief Financial Officer, and join the Executive Committee. She succeeds Maud THUAUDET, who will take another position within the Group.
After graduating from Ecole Polytechnique and earning a PhD in Materials Science and Engineering from the Massachusetts Institute of Technology, Noémie Chocat, who has dual French-Japanese nationality, joined Saint-Gobain in 2012 as a Research Engineer in Saint-Gobain Research Paris. In 2015, she moved to the Building Distribution Sector central team as Digital Project Leader, then in 2017 to "Distribution Sanitaire Chauffage" (DSC), distribution network specialized in plumbing, heating, sanitaryware within Saint-Gobain Distribution Bâtiment France ("SGDBF") as Marketing Studies and Pricing Director. Since 2019, Noémie has been Digital Director SGDBF.
About Saint-Gobain
Saint-Gobain designs, manufactures and distributes materials and solutions for the construction, mobility, healthcare and other industrial application markets. Developed through a continuous innovation process, they can be found everywhere in our living places and daily life, providing wellbeing, performance and safety, while addressing the challenges of sustainable construction, resource efficiency and the fight against climate change. This strategy of responsible growth is guided by the Saint-Gobain purpose, "MAKING THE WORLD A BETTER HOME", which responds to the shared ambition of all the women and men in the Group to act every day to make the world a more beautiful and sustainable place to live in.
Contact:
Patricia Marie – Media Contact – +33 1 88 54 26 83
Source: Compagnie de Saint-Gobain