PPG Completes COLORFUL COMMUNITIES Project at Maison de l'Enfance et de la Famille du Valenciennois in Artres, France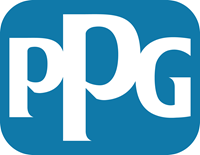 PPG announced the completion of a COLORFUL COMMUNITIES® project in Artres, France, that helped revitalize Maison de l'Enfance et de la Famille (MEF) du Valenciennois. The project brought together around 50 PPG volunteers who spent 200 hours beautifying the public shelter, which cares for children ages 8 to 13 who are placed by the child welfare system.
To support the project, PPG contributed $60,000 (51,000 euros), including 66 gallons (250 liters) of PEINTURES GAUTHIER® paint by PPG, to redecorate and beautify bedrooms, hallways and other areas of the facility. The shelter is managed by Etablissement Public Départemental pour Soutenir, Accompagner et Eduquer (EPDSAE).
PPG experts used the principle of chromotherapy in choosing the project's bedroom and hallway colors. Bleu Oman, which is a bright blue said to promote sweet dreams, was used in some bedrooms. A sparkling yellow – Jaune Klee – was selected to bring joy and luminosity to the hallways. Project volunteers also painted bathrooms and refurbished floors. In addition, PPG provided funding for modern furnishings, such as wardrobes, night lamps, posters and blackboards, to make the rooms more welcoming.
The Colorful Communities program provides PPG volunteers and products along with financial contributions to bring color and vitality to communities where the company operates around the world. PPG has research and manufacturing facilities for its automotive OEM and industrial coatings businesses in nearby Marly and Saultain.
As part of the PPG Charity Partner program, PPG employees have organized dozens of fundraising activities to support MEF since 2020, including selling raffle tickets and honey from beehives installed at their sites. Employees also have collected material donations, such as toys, puzzles, books and clothing, for the children. In addition, PPG provided direct funding for 16 computers as well as printers and webcams for MEF units in Artres and Condé-sur-l'Escaut as part of its COVID-19 relief efforts.
"I want to thank PPG and the employees who have helped support MEF," said Claire Cherquefosse, director, MEF du Valenciennois. "It's wonderful to see the facility revitalized with such beautiful color choices. The children are thrilled and very grateful. We are also very happy to have the computers, which are so important for the children's education."
"We are proud to contribute to the fantastic work done at MEF," said Karine Tomala, PPG operational manager, Marly. "These initiatives demonstrate the commitment of our company and employees to provide help and support to the communities that need it most, aligning with our goal of protecting and beautifying the world."
The?Colorful Communities?program, PPG's signature initiative for supporting communities, aims to protect and beautify the neighborhoods where PPG operates around the world. Through the?Colorful Communities program, PPG's committed volunteers contribute their time and PPG paint products to help transform community assets – from painting classrooms, to bringing color to a maternity ward and redesigning a playground. Since 2015, PPG has completed more than 330?Colorful Communities?projects, impacting more than 6.7 million people in 42 countries.
PPG's global community engagement efforts and the PPG Foundation aim to bring color and brightness to PPG communities around the world. We invested more than $13 million in 2020, supporting hundreds of organizations across more than 30 countries. By investing in educational opportunities, we help grow today's skilled workforce and develop tomorrow's innovators in fields related to coatings and manufacturing. Plus, we empower PPG employees to multiply their impact for causes that are important to them by supporting their volunteer efforts and charitable giving. Learn more at www.ppgcommunities.com.
About PPG Industries
At PPG (NYSE:PPG), we work every day to develop and deliver the paints, coatings and materials that our customers have trusted for more than 135 years. Through dedication and creativity, we solve our customers' biggest challenges, collaborating closely to find the right path forward. With headquarters in Pittsburgh, we operate and innovate in more than 75 countries and reported net sales of $13.8 billion in 2020. We serve customers in construction, consumer products, industrial and transportation markets and aftermarkets. To learn more, visit www.ppg.com.
Contact:
Anne Bienvenu – Communications France – anne.bienvenu@ppg.com – +33 157 61 0112
Source: PPG Industries, Inc.