Kodiak Building Partners Acquires Carl's Building Supply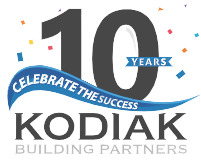 Lawrence Johnson, owner of Carl's Building Supply, and Kodiak Building Partners announced today the acquisition of Carl's Building Supply, effective October 1, 2021. Carl's was founded in 1947 and serves the lumber and hardware needs of builders and homeowners in the greater Olympic Peninsula market, in western Washington.
Lawrence will continue to remain active with Carl's following the transaction, and Tom Rider, currently President, will continue in that role and be responsible for the overall business, as well as the go-forward strategy. Carl's will join the Retail Lumber and Gypsum group of Kodiak and will report to Pat Flood, Executive Vice President of this Kodiak segment.
Both Lawrence and Tom have deep roots in the industry. Lawrence and his wife, Lori, bought Carl's from Lawrence's father (Carl) in 1992 after Lawrence had been involved with other lumber dealers in the Northwest. Under Lawrence's leadership, Carl's grew from a small retail business to a best-in-class contractor yard with a strong emphasis on quality and service.
Tom, like many in the industry, got sawdust in his blood when he started sweeping floors in a lumberyard at the age of 16. Tom has been with Carl's for over four years and initially joined the company in a consulting role, leveraging his background as an attorney and experience with a national finance company as well as start-ups. He ended up finding his permanent home at Carl's as he was given the freedom to implement new and innovative ideas that he brought from other industries, including an expanded use of various technology platforms to better service the customer.
Under Lawrence and Tom's leadership the company has made succession planning in all areas of the company a core focus, always searching for fresh ideas to continuously improve their service offering. This progressive company boasts a workforce with 1/3 of the staff holding college degrees and has a strong family culture that includes a handful of married couples, father-child teams, and many employees with over 20 years of loyal service. Carl's staff also touts an average age 10 years under the industry average, as a result of intentional recruiting efforts.
Steve Swinney, Kodiak's CEO, knows that this resourceful and talented team will beautifully complement Builders Alliance and Frontier Building Supply, which are also located in Washington. Steve said, "It's clear that this visionary company, with its proven track record, will fit perfectly with Kodiak's decentralized operating philosophy and will contribute to making us all better as they share best practices and successes. Carl's, in turn, will be able to benefit from the scale and resources that a larger organization can provide. Despite the significant shrinkage in lumber commodity prices, we remain very bullish on the market that Carl's serves and the Pacific Northwest area in general."
Lawrence adds that partnering with Kodiak "ensures that the next 75 years are in safe hands, both for our family of employees and our robust home building community. I've been thinking about joining forces with a larger company for a while, now. After passing on a few other opportunities, I felt that Kodiak's culture would be the right match for Carl's. I am certain that my employees, community, and customers will be pleased."
About Carl's Building Supply
Carl's Building Supply is dedicated to the success of their customers' projects, serving primarily custom builders from their 8-acre single location that boasts over 50,000 square feet of covered storage. The 44 employees supply framing materials, doors and windows, hardware and tools, and roofing to western Washington. www.carlsbuildingsupply.com
About Kodiak Building Partners
Kodiak Building Partners, through its 89 locations, serves general contractors, homebuilders, sub-contractors, remodelers, and consumers with its operations in Arizona, California, Colorado, Delaware, Florida, Idaho, Illinois, Indiana, Kansas, Maine, Maryland, Massachusetts, Michigan, Minnesota, Nebraska, New Hampshire, North Carolina, Oregon, Texas, Washington, Wisconsin, and Wyoming. www.kodiakbp.com
Contact:
Matt Lascola – Vice President Corporate Development & Real Estate – matt.lascola@kodiakbp.com
Source: Kodiak Building Partners, LLC