Cavco Industries Reports Record Fiscal 2022 Second Quarter Results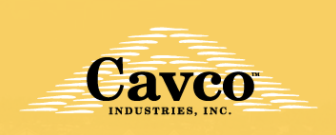 Cavco Industries, Inc.  announced financial results for the second fiscal quarter ended October 2, 2021 and provided updates on other business items.
On September 24, 2021, we completed the acquisition of certain assets and liabilities of The Commodore Corporation ("Commodore"), which operates six manufacturing plants and two retail locations. Since the acquisition date, the results of Commodore are included in Cavco's consolidated financial statements.
Quarterly Highlights
-Record breaking Net revenue and Net income of $360 million and $38 million, respectively
-Gross profit as a percentage of Net revenue increased to 25.0% with factory-built housing gross profit as a percentage of Net revenue at 24.1%
-Earnings per diluted share was $4.06 compared to $1.62 in last year's quarter
-Backlogs were $1.1 billion at the end of the quarter, up $315 million from three months earlier. Of this increase, Commodore contributed $279 million
-Returned $7.6 million to shareholders through stock repurchases
Commenting on the quarter, Bill Boor, President and Chief Executive Officer said, "Our businesses continue to do an outstanding job of managing through an extremely volatile period. The impressive results this quarter were achieved while managing persistent labor and supply challenges. We were also able to close on the Commodore acquisition ahead of schedule and are well into the combination of two strong organizations. We're excited about the improvements that will come from leveraging the best of both."
Mr. Boor continued, "With continuing strong demand drivers and our solid operating foundation we remain focused on our long-term strategies. We have a tremendous opportunity to provide affordable homes at a faster and faster pace by investing in manufacturing improvements in our existing plants and growing our capacity through new operations and acquisitions."
In the factory-built housing segment, the increases in Net revenue were primarily due to higher home selling prices and higher home sales volume. The higher home prices were driven by product price increases and a shift toward more multi-section homes. Home sales volume increased from higher factory capacity utilization.
Financial services segment Net revenue increased primarily due to higher volume in home loan sales and more insurance policies in force in the current year compared to the prior year, partially offset by lower interest income earned on the acquired consumer loan portfolios that continue to amortize and higher unrealized losses on marketable equity securities in the insurance subsidiary's portfolio.
In the factory-built housing segment, Gross profit for the three and six months ended October 2, 2021 increased from higher home sales prices, partially offset by higher material costs per unit. Our margins benefited from recent lows in lumber and other lumber related product prices. However, most other product prices have increased significantly. Selling, general and administrative expenses increased in these periods from higher salary and incentive compensation expense on improved earnings, transaction deal costs related to the Commodore acquisition and higher net expense related to the Securities and Exchange Commission ("SEC") inquiry.
In the financial services segment, Gross profit increased in the second quarter of fiscal year 2022 compared to the same quarter in the prior year primarily due to fewer weather events, partially offset by unrealized losses on marketable equity securities compared to unrealized gains in the prior year period. For the six months ended October 2, 2021, gross profit decreased primarily due to higher weather related claims in the first three months of the period and unrealized losses on marketable equity securities compared to unrealized gains in the prior year period. Further, Income from operations decreased for the three and six months ended October 2, 2021 primarily due to higher compensation expense.
Other income, net during the three months ended October 2, 2021 includes a $3.3 million gain on the consolidation of a non-marketable equity investment, which went from a 50% ownership to 70%.
Housing Demand and Production Updates
Housing demand remains strong as well-qualified individuals continue pursuing home-ownership, bolstered by the low home loan interest rates. Home order rates have moderated from the extreme highs we saw the past few quarters, but still remain above pre-COVID rates, which were considered to be strong.
Our backlogs at October 2, 2021 were $1.1 billion, up $315 million or 39.8% compared to $792 million at July 3, 2021, and up $787 million or 245.4% compared to $321 million at September 26, 2020. These increases include $279 million attributable to the Commodore acquisition. Although we continue to experience hiring challenges, higher and largely unpredictable factory employee absenteeism and other inefficiencies from building material supply disruptions, our total average plant capacity utilization rate was approximately 75% during the second fiscal quarter of 2022.
Closing of The Commodore Corporation Acquisition
As noted above, we completed the acquisition of Commodore on September 24, 2021. The purchase price totaled $156 million, based on estimated closing financial statements and after certain adjustments. The purchase was funded with cash on hand. Further purchase price adjustments are expected upon completion of final closing financial statements and upon achievement of other specified milestones.
Certain benefits of the acquisition include:
-Beneficial geographic addition to Cavco's footprint with strong operations in the Northeast/Midwest/Mid-Atlantic markets, which provide a platform for future growth;
-Strong and experienced management team that has implemented manufacturing innovations with reapplication potential across Cavco's operations;
-Potential for cost and revenue synergies;
-Strategic deployment of cash while maintaining a strong liquidity position; and
-Accretive transaction on both an earnings and cash flow from operations basis at an attractive price based on industry benchmarks.
Update on New Park Model Facility in Arizona
We continue to make progress on the new Glendale, Arizona facility that focuses on park model RV production. We have experienced permitting delays and now expect to begin operations in mid-calendar year 2022.
For the complete press release, click here.
About Cavco
Cavco Industries, Inc., headquartered in Phoenix, Arizona, designs and produces factory-built housing products primarily distributed through a network of independent and Company-owned retailers. We are one of the largest producers of manufactured and modular homes in the United States, based on reported wholesale shipments. Our products are marketed under a variety of brand names including Cavco, Fleetwood, Palm Harbor, Nationwide, Fairmont, Friendship, Chariot Eagle, Destiny, Commodore, Colony, Pennwest, R-Anell, Manorwood and Midcountry. We are also a leading producer of park model RVs, vacation cabins and factory-built commercial structures. Cavco's finance subsidiary, CountryPlace Mortgage, is an approved Fannie Mae and Freddie Mac seller/servicer and a Ginnie Mae mortgage-backed securities issuer that offers conforming mortgages, non-conforming mortgages and home-only loans to purchasers of factory-built homes. Our insurance subsidiary, Standard Casualty, provides property and casualty insurance to owners of manufactured homes.
Contact:
Mark Fusler – Director of Financial Reporting & Investor Relations – investor_relations@cavco.com – (602) 256-6263
Source: Cavco Industries, Inc.