Interfor Reports Q3'21 Results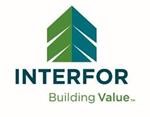 Interfor Corporation ("Interfor" or the "Company") recorded Net earnings in Q3'21 of $65.6 million, or $1.05 per share, compared to $419.2 million, or $6.45 per share in Q2'21 and $121.6 million, or $1.81 per share in Q3'20. Adjusted net earnings in Q3'21 were $46.7 million compared to $433.5 million in Q2'21 and $140.0 million in Q3'20.
Adjusted EBITDA was $93.9 million on sales of $664.3 million in Q3'21 versus $611.3 million on sales of $1.1 billion in Q2'21.
Notable items in the quarter:
Record Production and Shipments
Total lumber production in Q3'21 was 731 million board feet, representing an increase of 15 million board feet quarter-over-quarter and setting an Interfor production record. The U.S. South and U.S. Northwest regions accounted for 411 million board feet and 156 million board feet, respectively, compared to 387 million board feet and 137 million board feet in Q2'21. Sawmills acquired on July 9, 2021 contributed to the increased output in both regions. Production in the B.C. region decreased to 164 million board feet from 192 million board feet in Q2'21 due to log supply related downtime at the B.C. Interior sawmills as a result of wildfires.
Total lumber shipments were 753 million board feet, or 39 million board feet higher than Q2'21 and 135 million board feet higher than Q3'20.
Interfor's average selling price was $744 per mfbm, down $675 per mfbm versus Q2'21. The SYP Composite, Western SPF Composite and KD H-F Stud 2×4 9' lumber price benchmarks decreased quarter-over-quarter by US$560, US$840 and US$1,051 per mfbm to US$468, US$479 and US$558 per mfbm, respectively.
Strong Free Cash Flow Generation
Interfor generated $72.3 million of cash flow from operations before changes in working capital, or $1.15 per share. A decrease in working capital investment added $123.9 million of cash flow, primarily related to the collection of trade receivables recorded at higher lumber prices and lower log inventories in B.C. driven by wildfire impacts.
Net debt ended the quarter at $(133.8) million, or (9.3)% of invested capital, resulting in available liquidity of $836.3 million.
Strategic Capital Investments
Capital spending was $44.0 million, including $26.6 million on high-return discretionary projects. The majority of this discretionary spending was focused on the ongoing multi-year rebuild of the Eatonton, GA sawmill, which will begin ramp-up in Q1'22.
Acquisition of Four US Sawmills and Restart of the DeQuincy, LA Operation
On July 9, 2021, Interfor concluded the acquisition of four sawmill operations located in Bay Springs, MS, Fayette, AL, DeQuincy, LA and Philomath, OR (the "Acquired US Sawmills") from Georgia-Pacific Wood Products LLC and GP Wood Products LLC. The Company paid total consideration of US$372.0 million.
Inventory purchase accounting adjustments of $14.0 million related to the Acquired US Sawmills are included in production costs for Q3'21.
Significant progress has been made on restarting operations at the sawmill in DeQuincy, LA, which has annual lumber production capacity of 200 million board feet. Lumber production is expected to begin in Q1'22 and ramp-up over the course of 2022.
Normal Course Issuer Bid ("NCIB") Completion
On September 16, 2021, Interfor announced an amendment to its NCIB increasing the maximum number of common shares that may be purchased by an additional 690,906 common shares. The amended NCIB allowed for the purchase of up to 6,672,658 common shares.
During Q3'21, Interfor purchased 2,882,048 common shares under the Company's NCIB for total consideration of $83.1 million. This completed the purchase of all 6,672,658 common shares allowable for total consideration of $177.3 million, representing an average price of $26.56 per share, or 1.03 times book value per share at September 30, 2021.
Sale of Former Sawmill Property
On July 21, 2021, the Company completed the sale of property, plant and equipment at its former Hammond sawmill located in Maple Ridge, B.C. for net cash proceeds of $39.7 million and recorded a gain of $22.8 million.
Softwood Lumber Duties
Interfor expensed $6.1 million of duties in the quarter, representing the full amount of CV and AD duties incurred on its Canadian shipments of softwood lumber into the U.S. at a combined rate of 8.99%.
Cumulative duties of US$163.0 million have been paid by Interfor since the inception of the current trade dispute and are held in trust by the U.S. Except for US$32.9 million in respect of overpayments arising from duty rate adjustments, Interfor has recorded the duty deposits as an expense.
Renewal of NCIB
The Toronto Stock Exchange ("TSX") has approved the renewal by the Company of its NCIB.
The NCIB will allow for the purchase during the twelve-month period commencing on November 11, 2021 and ending on November 10, 2022 of up to 6,041,701 common shares, which represents 10% of the Company's public float as at November 4, 2021.
Under TSX rules, Interfor will be allowed to purchase daily a maximum of 117,823 common shares, representing 25% of the average daily trading volume of the Company's common shares over the six-month period ending October 31, 2021, subject to certain exemptions for block purchases. As of November 4, 2021, the Company has 60,781,186 common shares issued and outstanding. All purchases will be made through open market transactions through the facilities of the TSX or other Canadian alternative trading systems and will conform to their rules and regulations. The price to be paid by Interfor for any common shares will be the market price at the time of acquisition. All common shares purchased pursuant to the NCIB will be cancelled.
Interfor has also entered into an automatic securities purchase plan agreement with a securities broker under which the broker will act as the Company's agent to acquire Interfor common shares under the NCIB during the Company's scheduled blackout periods in the course of the NCIB. Purchases by the broker under the NCIB during these periods will be made at the broker's discretion, subject to certain parameters established by Interfor prior to each period with respect to price and number of common shares.
The Company continues to believe that, from time to time, the market price of its common shares may be attractive and their purchase would represent a prudent use of its capital to increase shareholder value.
Deferral of Old-Growth Logging in B.C.
On November 2, 2021, the B.C. government announced a proposed deferral of harvesting within 2.6 million hectares of B.C. forests. This proposed deferral, if implemented, has been identified as temporary and is subject to First Nations engagement which is currently ongoing. Interfor requires additional and more specific information to understand the potential impacts of this proposal on its operations in B.C. Interfor's operations within the coastal and interior regions of B.C. account for 4% and 19% of its total lumber production capacity, respectively.
Outlook
North American lumber markets over the near term are expected to remain above historical trends driven by continued strong demand from new housing starts and repair and remodel activity, albeit with volatility as the economy adjusts to the COVID-19 pandemic recovery.
Interfor expects lumber demand to continue to grow over the mid-term, as repair and renovation activities and U.S. housing starts benefit from favourable underlying economic fundamentals and trends.
Interfor's strategy of maintaining a diversified portfolio of operations in multiple regions allows the Company to both reduce risk and maximize returns on capital over the business cycle. While uncertainty remains as to the duration and extent of the economic impact from the COVID-19 pandemic, Interfor is well positioned with its strong balance sheet and significant available liquidity.
For the full third quarter results, click here.
About Interfor
Interfor is a growth-oriented forest products company with operations in Canada and the United States. The Company has annual production capacity of approximately 3.9 billion board feet and offers a diverse line of lumber products to customers around the world. For more information about Interfor, visit our website at www.interfor.com.
Contact:
Richard Pozzebon – Senior Vice President & CFO – (604) 689-6800
Source: Interfor Corporation