Resolute Reports Preliminary Third Quarter 2021 Results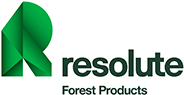 Resolute Forest Products Inc. reported net income of $80 million, or $0.99 per diluted share, for the quarter ended September 30, compared to net income of $57 million, or $0.66 per diluted share, in the same period in 2020. Sales were $817 million in the quarter, an increase of $87 million from the prior year. Excluding special items, the company reported net income of $67 million, or $0.84 per diluted share, compared to net income of $62 million, or $0.72 per diluted share, in the third quarter of 2020.
"Coming off the record highs in benchmark lumber prices attained in May, this quarter's results reflect the sizeable impact of peak prices converging back toward trend," said Remi G. Lalonde, president and chief executive officer. "Our pulp and paper businesses built on the momentum of the second quarter, with strong pulp shipments and higher transaction prices in both segments. With our commitment to generate value for shareholders, this quarter we paid the $1 per share special dividend and repurchased 1.2 million shares at an average price of $10.95. The tissue business faced a slow recovery from commercial consumption and this year's consumer inventory rebalancing, in addition to pandemic-related logistics and labor challenges. This unfortunately overshadows the performance of Calhoun tissue, which was profitable in Q3."
Non-GAAP financial measures, such as adjustments for special items and adjusted EBITDA, are explained and reconciled below.
Quarterly Operating Income Variance Against Prior Period
Consolidated
The company reported operating income of $102 million in the quarter, compared to $406 million in the second quarter of 2021. The $304 million variation reflects lower realized prices and shipments in wood products ($342 million), partly offset by higher realized prices in the pulp and paper segments ($32 million), and higher volume in market pulp ($9 million).
Segment operating income variance against prior period
Wood Products
The wood products segment generated operating income of $64 million in the quarter, a decrease of $341 million from the previous quarter. With benchmark lumber prices falling from the record highs attained in May, the average transaction price fell to $573 per thousand board feet, a $583 per thousand board feet, or 50%, decrease from the previous quarter. Wood products shipments also slipped by 64 million board feet, to 511 million, reflecting lower demand, capital projects downtime, vacation accommodation and workforce availability constraints in the U.S. South in the pandemic. Finished goods inventory rose slightly to 129 million board feet. The operating cost per unit (or, the "delivered cost") decreased by $4 per thousand board feet, or 1%, with gradually decreasing stumpage fees. EBITDA in the segment decreased by $340 million, to $75 million.
Market Pulp
The company generated operating income of $46 million in the market pulp segment, an increase of $16 million from the previous quarter. The average transaction price increased by $39 per metric ton, or 5%, to $826 per metric ton, with gains in all grades. The delivered cost was unchanged from the previous quarter at $665 per metric ton, as shipments rose by 30,000 metric tons as a result of inventory changes. Finished goods inventory fell by 11,000 metric tons, to 52,000. EBITDA in the segment improved by $16 million, to $52 million.
Tissue
The tissue segment incurred an operating loss of $9 million in the quarter, $2 million wider than the previous quarter. The average transaction price decreased by $60 per short ton, or 3%, due to unfavorable product mix, while delivered costs decreased by $109 per short ton, or 5%, with less downtime than in the previous quarter. Despite pandemic-related headwinds such as labor availability and logistics constraints, shipments increased by 4,000 short tons in the gradually improving retail market and a slowly recovering away-from-home market. Finished goods inventory was 6,000 short tons, down by 2,000 short tons compared to the prior period. Segment EBITDA fell by $1 million, to negative $4 million.
Paper
The company generated an operating income of $16 million in the paper segment in the quarter, an increase of $23 million from the previous quarter. The average transaction price rose by $54 per metric ton, or 9%, with price recovery reflecting tightening global markets. Shipments decreased by 18,000 metric tons and finished goods inventory remained unchanged at 72,000 metric tons, in both cases reflecting a destocking effort over prior periods. The delivered cost was unchanged, reflecting lower maintenance costs related to planned outages in the previous quarter offset by higher chemical and energy prices. Segment EBITDA improved by $22 million, to $31 million.
Consolidated quarterly operating income variance against year-ago period
Compared to operating income of $97 million in the third quarter of 2020, the $102 million operating income in this quarter reflects stronger selling prices in the pulp and paper segments ($99 million), offset by higher fiber and energy costs ($40 million), lower realized prices and shipments in wood products ($23 million), higher maintenance costs ($8 million) and a stronger Canadian dollar ($14 million). At $144 million, adjusted EBITDA in the third quarter was $4 million higher than the third quarter of 2020.
Corporate, Cash and Liquidity
The company generated $105 million of cash from operating activities in the quarter and invested $32 million, net, in fixed assets. It repurchased 1.2 million shares of common stock in the quarter, or 2% of the amount outstanding, for $14 million, and paid a special cash dividend of $1 per share of common stock, or $79 million in aggregate, on July 7 to holders of record at the close of business on June 28.
With $119 million of quarter-end cash, liquidity stood at $930 million, and net debt was $184 million. By quarter-end, the company had recorded cumulative softwood lumber duty deposits of $371 million on the balance sheet, including $39 million paid in the quarter.
Jacques P. Vachon has announced his intention to retire from his role as Resolute's senior vice president, corporate affairs and chief legal officer. His retirement is effective December 31, 2021. Mr. Vachon has been with Resolute for over 36 years, beginning his career as a lawyer at the company's offices in Québec City. As a member of the executive team for almost 25 years, Jacques has played an instrumental role in building the Resolute of today. "On behalf of the board and the executive team, past and present, I want to thank Jacques for his many years of loyal service to the company. As an executive, he has been the guardian of this company's moral compass for decades. We all join to wish him a happy, healthy and well-deserved retirement. Jacques has agreed to serve as a special advisor to me on a part-time basis for the next year," said Mr. Lalonde.
"By the same token, I'm thrilled to welcome Stephanie Leclaire to the executive team. She has outstanding credentials and, as our vice president for legal affairs for nearly 15 years, her experience covers the full range of practice areas, including transactional, governance, litigation, commercial and public policy. She is equal parts brilliant lawyer and practical businessperson, and, as such, there is no better candidate to succeed Jacques as our next senior vice president for corporate affairs and chief legal officer," added Mr. Lalonde.
Prior to joining the company as legal counsel in 2001, Ms. Leclaire was in private practice for five years at the law firms of Davis Polk & Wardwell LLP in New York and Paul, Weiss, Rifkind, Wharton & Garrison LLP in Paris. She holds bachelor's degrees in civil and common law from Université de Montréal and Osgoode Hall Law School of York University, as well as a master of laws from New York University School of Law. She is admitted to practice law in New York and Quebec.
Outlook
Mr. Lalonde added: "After a peak to trough swing of roughly $1,000 per thousand board feet in the third quarter, lumber prices seem to have stabilized at above-trend levels on a pre-duties basis. In the coming quarter, we are looking for higher lumber shipments and slightly lower fiber costs, but considering the path of market prices, we could see a quarter-over-quarter reduction in average transaction price. We expect paper realized prices to build on their third quarter momentum in the seasonally busier fourth quarter. Even as market pulp conditions have been very strong, particularly in North America and Europe, energy-related downtime in China is slowing global pulp demand and adding downward pressure on prices. In tissue, we will continue to focus on driving improvements and to leverage our integrated pulp advantage and bring to light the value of the assets as the market continues on its path to recovery."
For the complete press release, click here.
About Resolute Forest Products
Resolute Forest Products is a global leader in the forest products industry with a diverse range of products, including market pulp, tissue, wood products and papers, which are marketed in over 50 countries. The company owns or operates some 40 facilities, as well as power generation assets, in the United States and Canada. Resolute has third-party certified 100% of its managed woodlands to internationally recognized sustainable forest management standards. The shares of Resolute Forest Products trade under the stock symbol RFP on both the New York Stock Exchange and the Toronto Stock Exchange.
Resolute has received regional, North American and global recognition for its leadership in corporate social responsibility and sustainable development, as well as for its business practices. Visit www.resolutefp.com for more information.
Contact:
Marianne Limoges – Treasurer & Vice President Investor Relations – ir@resolutefp.com – (514) 394-2214
Source: Resolute Forest Products Inc.