Lowe's Canada Helps Brighten the Holidays for Thousands of Children in Canada With Over 5,300 Gifts

Lowe's Canada is pleased to announce that its network has raised and donated more than 5,300 toys, stuffed animals and other gifts to underprivileged children across Canada. In partnership with Opération Père Noël in Quebec and the Salvation Army in the rest of Canada, the participating corporate and affiliate Lowe's, RONA and Réno-Dépôt stores have temporarily transformed into the North Pole to receive and store gifts offered by generous donors.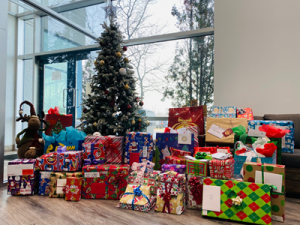 "The holiday season should be a time of rejoicing, sharing and celebrating. Once again this year, I am touched by the solidarity, generosity and dedication of our associates and our communities. Thanks to their efforts, children – young and old alike – will be able to experience magical moments and have the chance to develop a gift for the Holidays, "said Jean-Sébastien Lamoureux, Senior Vice-President, Public Affairs, Sustainable Development and Protection of active.
In Quebec, in collaboration with Opération Père Noël, some 360 ??associates received a child's wish list, in addition to buying and wrapping the gifts and signing their shipment with Santa Claus. The organization will deliver the gifts to the children just in time for the holidays. Moreover, for a 3rd consecutive year, Lowe's Canada has been recognized as the official Santa Claus of the South Shore of Montreal, where its headquarters is located.
"Operation Père Noël takes care in particular of children living in very poor families, or even having been abandoned. Thanks to the help of generous donors such as the Lowe's Canada team, more than 20,600 of these children, from all regions of Quebec, will experience the magic of the Holidays, "said Thérèse Guillemette, co-founder of Operation Santa Claus and nicknamed Mother Christmas.
To share this news on social media, please use @ Lowe's Canada (LinkedIn) and @LowesCanadaCorp (Twitter).
About Lowe's Canada
Lowe's Companies, Inc. (NYSE: LOW) is a FORTUNE MD 50 home improvement company. It serves approximately20 million customers per week in the United States and Canada. With sales of nearly US $ 90 billion in fiscal 2020, Lowe's and its affiliates operate or service more than 2,200 hardware and home improvement stores and employ approximately 300,000 associates. Based in Boucherville, Quebec, the Canadian company of Lowe's, together with its wholly owned subsidiary RONA Inc., operates or serves more than 450 independent corporate and affiliate stores in a number of complementary formats and under various brands, including Lowe's , RONA, Réno-Dépôt and Dick's Lumber. In Canada, these companies have more than 26,000 associates, in addition to approximately 5,000 employees working for independent affiliated merchants operating their businesses under the RONA brand. For more information, visitlowescanada.ca.
Source: Lowe's Companies Canada ULC