Sherwood Lumber Appoints New Lead of Exterior Building Products & Outdoor Living Division
Sherwood Lumber has announced the promotion of Michael Glowacki to lead Sherwood Lumber's Exterior Building Product and Outdoor Living division. Effective immediately, Mr. Glowacki will assume responsibilities for driving revenue and the continued growth and success of the entire outside sales team. Mr. Glowacki has been employed at Sherwood Lumber since 2017 and has been integral in helping develop its sales strategies, solidify relationships in the region and build its outside sales team.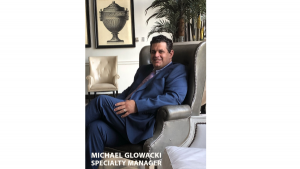 Todd London, SVP of Sales and Marketing for Sherwood Lumber stated, "Sherwood's exterior building product and outdoor living division represents the number one area for growth and investment in the company today. Strategically, Sherwood has positioned itself with a strong value proposition to be the leader in the Northeast and Mid-Atlantic regions. As we continue to evolve, we benefit from strong leadership that understands our long-term vision and operates within the constraints of our mission. Michael Glowacki perfectly exemplifies and embodies the critical and powerful combination of passion, results and empathy. Without a doubt, the team is in impeccable hands with Michael."
"Sherwood Lumber has a vision to lead the industry in exterior and outdoor living products. This vision is fueled by a passion to bring the best products to market and assist in building beautiful dream homes that surpass customers' and homeowners' dreams. Over the last five years, I have witnessed Sherwood impressively establishing itself in this market segment. I am supremely confident and enthusiastic to take the lead in continuing to build the best team in the industry," said Michael Glowacki, Specialty Manager at Sherwood Lumber.
About Sherwood Lumber
Sherwood Lumber's Exterior Building Product and Outdoor Living division is an essential bridge between manufacturers and the one-step, lumberyard channels for outdoor living and exterior building products. Sherwood provides marketing support, pull and push sales efforts and efficient logistic solutions to product lines that have rigorous demands in terms of in-depth SKU' requirements and complex logistical requirements in the new construction, residential and multi-family segments.
Source: Sherwood Lumber Corporation