Do it Best Goes Virtual for Spring Market

Do it Best announces their plan to continue their successful virtual market format for their spring 2022 event. This market, featuring the best buying opportunities of the season from the nation's top vendors, will now be available online from February 11–25.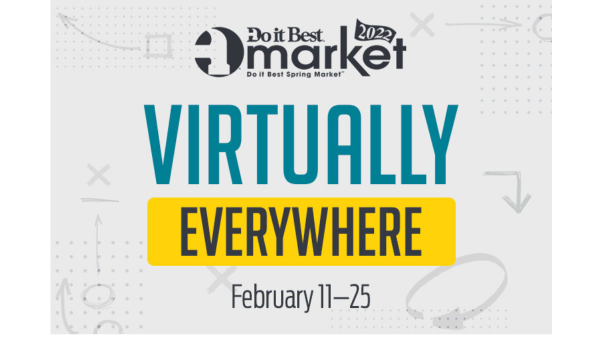 "In our conversations with members, key vendors, and staff, we've been evaluating our spring market options in light of the business continuity disruptions, potential travel challenges, and health and safety issues driven by the ongoing uncertainty of the pandemic," said Vice President of Marketing Rich Lynch. "We don't take this decision lightly, but with two successful virtual markets already under our belt and a well-received hybrid market last fall, the best option is to move our spring event exclusively online."
The spring market will offer outstanding buying opportunities, including the popular Sneak Peek and Cyber Steals, and introduce Core Solutions: The Ultimate Hardware Destination. The online event will also feature a business update from President and CEO Dan Starr, strategic buying presentations from Do it Best lumber, building materials, merchandising, and marketing experts as well as educational training sessions from industry veterans.
The next Do it Best Fall Market is scheduled for September 9–12 at the Indiana Convention Center in Indianapolis.
About Do it Best
Based in Fort Wayne, IN, Do it Best is the only US-based, member-owned comprehensive and fully integrated hardware, lumber and building materials buying cooperative in the home improvement industry. With annual sales surpassing $5 billion, Do it Best serves thousands of member-owned locations across the United States and in more than 50 other countries. For more information, visit doitbestonline.com and follow us on Facebook, LinkedIn and Twitter.
Contact:
Randy Rusk – Communications Director –randy.rusk@doitbest.com – (260) 748-5307
Source: Do It Best Corp.