CSX Corp. Announces Fourth Quarter 2021 Financial Results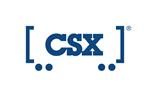 CSX Corp. ("CSX") announced fourth quarter 2021 net earnings of $934 million, or $0.42 per share, compared to $760 million, or $0.33 per share in the same period last year. Fourth quarter 2021 operating ratio was 60.1% compared to 57.0% in the prior year period. Prior year results include a pre-tax charge of $48 million within other expense, or $0.02 per share after-tax, related to the early retirement of debt.
"I would like to thank all of CSX's employees for their hard work and dedication to our customers this quarter and for the entire year amidst the ongoing impacts of the pandemic and persistent global supply chain disruptions," said James M. Foote, president and chief executive officer. "As we enter 2022, we remain committed to providing our customers high quality service and creating additional capacity to help them address current supply chain challenges through the increased use of rail."
Revenue for the fourth quarter increased 21 percent from the prior year to $3.43 billion, driven by growth across all major lines of business, increases in other revenue and the inclusion of Quality Carriers' results. Operating income improved 12 percent to $1.37 billion for the quarter.
For the full fourth quarter results, click here.
About CSX
CSX, based in Jacksonville, Florida, is a premier transportation company. It provides rail, intermodal and rail-to-truck transload services and solutions to customers across a broad array of markets, including energy, industrial, construction, agricultural, and consumer products. For nearly 200 years, CSX has played a critical role in the nation's economic expansion and industrial development. Its network connects every major metropolitan area in the eastern United States, where nearly two-thirds of the nation's population resides. It also links more than 230 short-line railroads and more than 70 ocean, river and lake ports with major population centers and farming towns alike.
Contact:
Bryan Tucker – Corporate Communications – (855) 955-6397
Source: CSX Corporation