Federated Co-operatives CEO Scott Banda to Retire
Federated Co-operatives Limited's ("FCL") Chief Executive Officer, Scott Banda has announced he will retire in May 2022, after 20 years with FCL.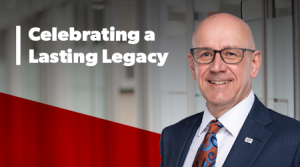 During his 12 years as CEO and through his career at FCL, Scott has made a lasting impact on the entire organization and on Co-op's across Western Canada. His focus on advancing our Vision of Building Sustainable Communities Together continues to benefit local Co-ops and the over 600 communities they serve.
FCL has experienced significant growth and evolution under Scott's leadership, always with a sharp focus on creating value and ensuring the sustainability of the entire Co-operative Retailing System ("CRS"). As much as Scott has accomplished throughout his career, he has remained true to his prairie and co-operative roots and the value of working together to benefit our member co-ops and local communities. That's what makes Co-op a different kind of business.
Scott's belief in the cooperative model and the virtuous circle of shared success has positioned FCL to thrive and ensure these Co-ops can continue to benefit their communities for future generations.
Scott's visionary leadership and commitment to upholding our values of Integrity, Excellence and Responsibility are the basis for his outstanding contributions and lasting legacy.
Source: Federated Co-operatives Limited