CRH plc Issues Full Year Results for the Year Ended 31 December 2021

Key Highlights
Another year of record delivery driven by our integrated solutions strategy
Good underlying demand, strong profit growth and further margin improvement
Continued strong cash generation; underpinning financial strength and flexibility
Agreement reached on $3.8bn divestment of Building Envelope business
$1.5bn invested across 20 bolt-on acquisitions; disciplined and value-focused
Strong pipeline of opportunities for further growth and value creation
Continued dividend delivery; full-year dividend per share up 5% to 121.0c
Share buyback programme ongoing; $0.9bn completed in 2021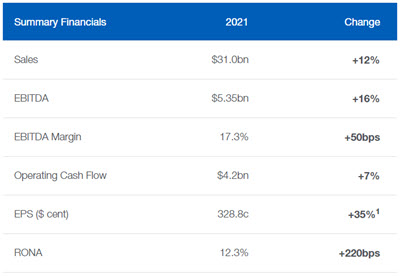 Albert Manifold, Chief Executive, said today:
"Our 2021 performance reflects the outstanding commitment and resilience of our people as well as the benefits of our integrated, customer-focused business strategy. Despite an inflationary input cost environment, we expanded our margins and delivered good growth in profits, returns and cash generation. This further underpins our strong and flexible balance sheet, providing us with significant opportunities for future growth and value creation. While the demand backdrop remains favourable across our markets, there are a number of challenges and uncertainties which we must continue to manage carefully as we look to deliver further value for our shareholders in the year ahead."
For the complete press release, click here.
About CRH plc
CRH (LSE: CRH, ISE: CRG, NYSE: CRH) is the leading building materials business in the world, employing c.79,000 people at c.3,100 operating locations in 30 countries. It is the largest building materials business in North America, a leading heavyside materials business in Europe and has positions in both Asia and South America. CRH manufactures and supplies a range of integrated building materials, products and innovative solutions which can be found throughout the built environment, from major public infrastructure projects to commercial buildings and residential structures. A Fortune 500 company, CRH is a constituent member of the FTSE 100 Index, the EURO STOXX 50 Index, the ISEQ 20 and the Dow Jones Sustainability Index (DJSI) Europe. CRH's American Depositary Shares are listed on the NYSE. For more information visit www.crh.com.
Contact:
Tom Holmes – Head of Investor Relations – 404 1000 (353 1 404 1000)
Source: CRH plc