PPG Completes COLORFUL COMMUNITIES Project at Xinmin Primary School in Jiangmen, Guangdong Province, China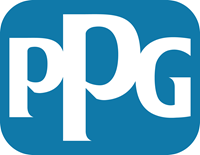 PPG Industries ("PPG") announced the completion of a COLORFUL COMMUNITIES® project at Xinmin Primary School in Jiangmen, Guangdong Province, China. The project brought together nearly 45 PPG volunteers, who spent more than 90 hours beautifying the school's dormitory, gymnasium and exterior walls.
PPG provided more than $75,000 (approximately RMB 480,000) in products and services to assist with the project, including 215 gallons (814 liters) of SEIGNEURIE™ by PPG exterior paint. In addition, PPG donated 15,000 medical masks to the school.
The Colorful Communities program provides PPG volunteers and products along with financial contributions to bring color and vitality to communities where the company operates around the world, such as in Jiangmen, China, where PPG has a production facility.
Founded in 1952, Xinmin Primary School has a strong cultural heritage. As the school prepared to celebrate its 60th anniversary in 2022, it was faced with broken facades on its dormitory building and gymnasium and walls that had fallen. The Colorful Communities project aimed to refurbish the facilities to create a colorful and beautiful campus for the faculty and 1,265 students.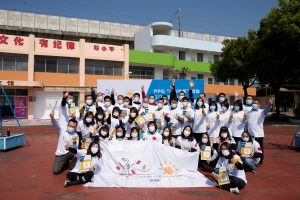 "We are grateful to PPG for its efforts in beautifying our campus," said Wu Shunyan, principal, Xinmin Primary School. "Our teachers and students like the pictures and color palette designed by PPG. The overall design echoes our school's principle of cultivating students with high levels of morality and academic performance to prepare for the future. It also makes our students feel energetic and hopeful and inspires their love for learning and life."
PPG volunteers used a color palette of lotus pink as the main shade and accents of green, blue and deep pink. The three shades used to paint the dormitory building and the facade of the gymnasium form a sharp contrast and layered visual effect. The sky-blue shade for the roof and the bright green in the middle create an energetic and hopeful feeling. The lotus pink at the bottom echoes the buildings' original lotus-theme decorations to provide a positive and hopeful atmosphere, which encourages students to learn and explore the unknown world.
"It is very meaningful for us to participate in the Colorful Communities project," said Hawk Liu, PPG operations manager, Jiangmen plant. "We beautified the campus through our products and our hands to provide a better environment for the faculty and students. We hope our volunteer service and donations can make the children feel the hope and beauty of life."
"Today's youth are the future and hope of our country, and their education is an important focus for PPG," said Cathy Yan, PPG general manager, corporate and government affairs, Asia Pacific. "We are committed to talent development for the next generation by creating a better educational environment for young people. In the future, we will bring Colorful Communities projects to more campuses as part of our mission of protecting and beautifying the world."
The Colorful Communities program, PPG's signature initiative for supporting communities, aims to protect and beautify the neighborhoods where PPG operates around the world. Through the Colorful Communities program, PPG's committed volunteers contribute their time and PPG paint products to help transform community assets – from painting classrooms, to bringing color to a maternity ward and redesigning a playground. Since 2015, PPG has completed 330 Colorful Communities projects, impacting more than 6.7 million people in 42 countries.
PPG's global community engagement efforts and the PPG Foundation aim to bring color and brightness to PPG communities around the world. We invested $13.3 million in 2021, supporting hundreds of organizations across more than 40 countries. By investing in educational opportunities, we help grow today's skilled workforce and develop tomorrow's innovators in fields related to coatings and manufacturing. Plus, we empower PPG employees to multiply their impact for causes that are important to them by supporting their volunteer efforts and charitable giving. Learn more at communities.ppg.com.
About PPG Industries
At PPG (NYSE:PPG), we work every day to develop and deliver the paints, coatings and materials that our customers have trusted for nearly 140 years. Through dedication and creativity, we solve our customers' biggest challenges, collaborating closely to find the right path forward. With headquarters in Pittsburgh, we operate and innovate in more than 75 countries and reported net sales of $16.8 billion in 2021. We serve customers in construction, consumer products, industrial and transportation markets and aftermarkets. To learn more, visit www.ppg.com.
Contact:
William Zhang – Corporate Communications Asia Pacific – william.zhang@ppg.com – +86 21 6091 8352
Source: PPG Industries, Inc.