Britton Lumber Announces Planned Sawmill Expansion
Britton Lumber Company is pleased to announce the planned expansion of their Eastern White Pine sawmill in August 2022.
Located in Bath, NH, Britton Lumber manufactures Eastern White Pine and operates a 30,000 square foot facility which produces approximately 9 million board feet annually. The planned addition will see a new, 6,500 square foot structure built onto the existing sawmill which will include a new Optimized Linear Edger, unscrambler, and new belt conveyors and transfer decks. The new edger and equipment from McDonough Manufacturing will replace Britton's existing 35 year old manual edger which is a significant bottleneck and the most labor intensive position in the sawmill.
While no jobs are being created or eliminated, a key component to the mill upgrade is to improve workflow and create safer and more desirable jobs. Britton Lumber expects an increase in production of approximately 5% and the project to be completed and operational by the end of 2022.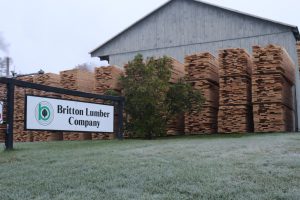 About Britton Lumber Company
Britton Lumber Company is a forest products and building materials business. Founded in 1946 by the Britton family, and celebrating its 75th anniversary last year, the company was acquired by Robert Moses in 2014. The Company currently operations two divisions: Manufacturing, which produces Eastern White Pine boards with a sawmill, dry kilns, and planer mill in Bath, NH; and Wholesale Distribution, which sells building materials from warehouses in Fairlee, VT, and Gray, ME. The Company's manufactured products are sold through its wholesale distribution as well as other wholesalers and distributors in the United Stated and Canada. The wholesale distribution division buys a wide variety of building materials from manufacturers and distributes them to over 300 retail lumber yards and home centers in Vermont, New Hampshire, Maine, Massachusetts, Connecticut, and New York. In 2018, Robert welcomed his two sons into the business. John is the current mill manager and oversees the manufacturing division and Brian oversees the wholesale division. There are approximately 65 employees company wide.
Contact:
Brian Moses – Sales & Purchasing – bmoses@brittonlumber.com – (802) 333-8106
Source: Britton Lumber Company