LL Flooring Celebrates Spring with New Seasonal Catalog, Style Report and New Flooring Collections

LL Flooring, one of the nation's largest specialty retailers of high-quality, hard-surface flooring that is dedicated to providing the best customer experience from inspiration to installation, is welcoming spring with its newest catalog and home décor style report, while showcasing new floor offerings as well as eco-friendly Duravana hybrid resilient flooring.
"Spring is a natural season to remodel your home and incorporate fresh new interior design styles. LL Flooring is excited to offer customers a wide selection of beautiful on-trend flooring that provides the performance busy families need," said LL Flooring President and CEO Charles Tyson.
Spring Style Report Calls Out Fresh Trends
To bring inspiration to its customers, LL Flooring released its Spring Catalog, featuring a seasonal style report as a helpful resource for homeowners, Pros and renovators to discover new home décor trends and flooring styles.
Among the themes highlighted in the style report is the trend of "homestead roots," a movement that emphasizes designing the home around the spirit of natural materials like wood, plant life and craft-centric décor.
LL Flooring also calls out the rise in embracing the "new neutrals" through color tones like soft rose, pale pink, and terra cotta to bring sophisticated, modern romanticism in the home.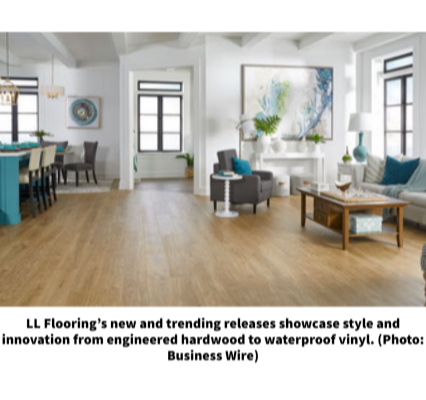 Spring Blooms with New, Trend-Forward Floors
Just in time for spring, LL Flooring has unveiled a comprehensive collection of new and popular floors, including Duravana hybrid resilient flooring. This new eco-friendly flooring features extreme wear-and-dent resistance, plus advanced double water protection that combines a waterproof plank with an innovative water-tight locking mechanism to prevent liquid from seeping between planks. The Duravana line of flooring offers a wide selection of styles for a fashionable, modern stage that suits any design.
Other noteworthy LL Flooring styles include:
Harmony Collection—This European-made, digitally printed vinyl provides for a realistic, genuine hardwood look combined with waterproof resilience, granting the peace of mind that comes with having a stylish defense against unexpected accidents.
Era Collection—Offering the latest looks in European Oak, Era hardwoods feature ultra-wide and ultra-long planks that create an open, stylish look in any room. The expansive planks allow for the trend-setting style of European Oak to take center stage.
Dream Home Waterproof Laminate—Introducing for the first time at LL Flooring, the Dream Home waterproof laminate assortment offers great value, style and performance.
Hydrocork— An optimal choice for any space, Hydrocork is a premium waterproof flooring solution that combines extreme performance with the sustainability and comfort of cork. A waterproof core made of composite cork protects from spills and splashes while providing natural thermal and noise insulation.
"Our new flooring styles really show the breadth and depth of what LL Flooring has to offer, from waterproof laminate to solid hardwood and everything in between," said LL Flooring Director of Merchandising Jennifer Meska. "We're excited to continue offering the best in style choice and quality for both our Pro and retail customers."
About LL Flooring
LL Flooring is one of the country's leading specialty retailers of hard-surface flooring with more than 425 stores nationwide. The Company seeks to offer the best customer experience online and in stores, with more than 500 varieties of hard-surface floors featuring a range of quality styles and on-trend designs. LL Flooring's online tools also help empower customers to find the right solution for the space they've envisioned. LL Flooring's extensive selection includes waterproof vinyl plank, solid and engineered hardwood, laminate, bamboo, porcelain tile, and cork, with a wide range of flooring enhancements and accessories to complement. LL Flooring stores are staffed with flooring experts who provide advice, Pro partnership services and installation options for all of LL Flooring's products, the majority of which is in stock and ready for delivery.
Learn More about LL Flooring
Contact:
Lauren Sauer – lauren.sauer@onesimpleplan.com – 651-285-5224
Source: Lumber Liquidators