PJ Clark Welcomes Samantha Barnett as Production Coordinator
Samantha Barnett takes the helm as Production Coordinator for PJ Clark Lumber. In this position, Samantha will keep her finger on the pulse of Little River Dry Kiln, working alongside the management team to offer quick, well-informed decisions on strategy and direction.
Barnett joins PJ Clark after six years with Atlanta Hardwood Corporation's Clarksville operation, where she worked in a variety of roles to gain a well-rounded understanding of lumber production. Those roles include shippings, sales, operations, and inventory management.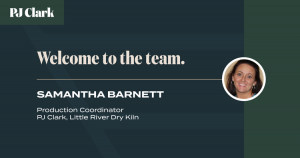 At PJ Clark's Little River Dry Kiln in Cadiz, Ky., Barnett is charged with improving processes from the time green lumber arrives to shipment to its final destination. PJ Clark is built on helping their customers keep their commitments.
"Samantha is crucial as we improve our workflow communication," says Jacob Wadlington, Founder of PJ Clark. "She's responsible for the production workflow from the moment lumber hits our yard until it's shipped. She's making an immediate impact!"
PJ Clark Lumber, founded in 2021 in Coppell, Texas, serves the lumber industry with high quality hardwood drying and production from their 23-acre facility in Cadiz, Kentucky.
Source: PJ Clark Lumber, LLC