Bliffert Lumber Powers Up with Solar
Bliffert Lumber & Hardware partnered with Arch Solar to install a solar array at its Chambers Street, Milwaukee location in January of 2022. The first full month of solar energy production in March exceeded expectations with a calculated environmental benefit of 9,606.11lb CO2 Emission saved or the equivalent 72.58 trees planted.
Arch Solar designed a custom solar solution for the Wisconsin climate for Bliffert's Riverwest location. The solar array consists of 114 Bifacial LONGi solar panels, 57 SolarEdge P960 optimizers, and a 43kW SolarEdge inverter. The custom racking system, design by TerraGen of Ontario, Canada will optimize winter production with low sun angles and snow-covered panels. With an installation occurring in the month of January, this is truly a winter-ready system. The array (50.7kW-DC) will offset 54.67% of Bliffert's electrical consumption with an estimated annual savings of $10,329 / 63,648 kWh produced by solar annually.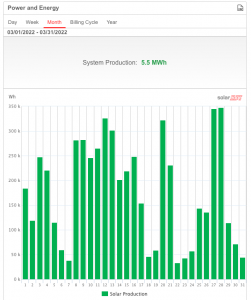 "Anyone in construction knows that reducing the environmental impact of the industry is a heavy burden to shoulder. Bliffert's commitment to reduce their carbon footprint and set an example for the community has been a motivating journey. For anyone looking to reduce their own environmental footprint, choosing Bliffert Lumber is your go to hardware store or lumber yard." Andrew Holmstrom, Arch Solar.
"Bliffert has always been deeply committed to our local community's quality of life, and we are excited to invest in a solar solution that benefits the health of our environment and our community. We are proud to invest in solar, a solution that is innovative and forward-looking in addition to saving costs, and hope we can inspire others in the industry and the community to follow our lead. Arch Solar has been a fantastic partner in helping us realize this vision, and we are looking forward to more projects at our other locations." Kevin Fogel, Bliffert Lumber & Hardware
About Arch Solar
Since our humble beginning, we've become leaders in the solar industry and are paving the way for renewables in Wisconsin. We are firm believers in handshake ethics and have a diverse staff of trusted, licensed, NABCEP certified solar experts with over 100 years of combined experience. Our company leaders are active instructors, inspectors, and consultants to many of the leading energy groups, both locally and nationally.
About Bliffert Lumber & Hardware
Bliffert Lumber and Hardware has served contractors and homeowners in southeastern Wisconsin for over 115 years. Since our incorporation in 1904, we have helped the community grow by supplying building materials to hospitals, stadiums, new homes, and a variety of other projects. Now in our 5th generation of Bliffert family ownership, we are proud to be family-owned and operated and make sure that the personal service shows at each of our eight locations.
Contact:
Kevin Fogle – Bliffert Lumber & Hardware – (414) 264-5700
Source: Bliffert Lumber & Fuel Co.