Weyerhaeuser to Acquire Timberlands in North and South Carolina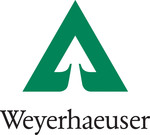 Weyerhaeuser Company announced an agreement to purchase 80,800 acres of high-quality timberlands in North and South Carolina from a fund managed by Campbell Global for approximately $265 million. The acquisition is comprised of highly productive timberlands situated in strong coastal markets and strategically located to deliver immediate synergies with existing Weyerhaeuser timber and mill operations. Additionally, the acquisition is expected to deliver portfolio-leading cash flow and harvest tons per acre within the company's Southern Timberlands business.
Key attributes include:
Fee ownership with 89 percent planted pine acreage and strong site productivity delivering attractive long-term timber returns
Well-stocked timber inventory with a mature age class producing attractive sawlog mix and average harvest of 6.5 tons per acre (or 520,000 tons) annually over the first 10 years
Expected average Adjusted EBITDA of approximately $160 per acre (or $13 million) annually from timber operations over the first 10 years
Significant optionality to capture additional upside from real estate and natural climate solutions opportunities
"This transaction is a great example of our ongoing efforts to enhance our portfolio with high-quality, well-managed timberlands that generate solid returns for our shareholders," said Devin Stockfish, president and chief executive officer. "These Carolina timberlands are strategically located, well-integrated with our existing operations and offer very attractive timberland attributes, and they will provide strong cash flows for our Southern Timberlands business."
With this acquisition, Weyerhaeuser will own or manage more than 900,000 acres of timberlands in the Carolinas, and the company also operates four mills, a distribution center and tree nursery and hosts multiple mitigation banks and real estate development projects — employing more than 700 people between the two states. The transaction is subject to customary closing conditions and is expected to close in the second quarter of 2022.
About Weyerhaeuser
Weyerhaeuser Company, one of the world's largest private owners of timberlands, began operations in 1900. We own or control approximately 11 million acres of timberlands in the U.S. and manage additional timberlands under long-term licenses in Canada. We manage these timberlands on a sustainable basis in compliance with internationally recognized forestry standards. We are also one of the largest manufacturers of wood products in North America. Our company is a real estate investment trust. In 2021, we generated $10.2 billion in net sales and employed approximately 9,200 people who serve customers worldwide. Our common stock trades on the New York Stock Exchange under the symbol WY. Learn more at www.weyerhaeuser.com.
Contact:
Nancy Thompson – Media Contact – (919) 861-0342
Source: Weyerhaeuser Company