Interfor Reports Q1'22 Results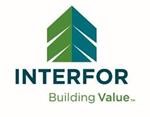 Interfor Corporation ("Interfor" or the "Company") (TSX: IFP) recorded Net earnings in Q1'22 of $397.0 million, or $6.69 per share, compared to $69.7 million, or $1.15 per share in Q4'21 and $264.5 million, or $4.01 per share in Q1'21. Adjusted net earnings in Q1'22 were $392.5 million compared to $78.2 million in Q4'21 and $270.6 million in Q1'21.
Adjusted EBITDA was $570.1 million on sales of $1.3 billion in Q1'22 versus $149.5 million on sales of $675.9 million in Q4'21.
Notable items in the quarter:
Acquisition of EACOM Timber Corporation

On February 22, 2022, the Company completed the transaction to acquire 100% of the equity interests of EACOM Timber Corporation ("EACOM") from an affiliate of Kelso & Company. The acquisition includes seven sawmills with a combined lumber production capacity of 985 million board feet, an I-Joist plant with annual production capacity of 70 million linear feet, and a value-added remanufacturing plant with annual production capacity of 60 million board feet (the "Acquired Eastern Canada Operations"). The Company paid total consideration of $731.2 million which was funded from cash on hand and drawings on the Revolving Term Line.
The Acquired Eastern Canada Operations contributed $5.1 million of Adjusted EBITDA to Interfor's first quarter results, which is net of $68.0 million recorded in production costs related to fair value adjustments recognized at the acquisition date.

Record Lumber Production

Total lumber production in Q1'22 was 921 million board feet, representing an increase of 163 million board feet quarter-over-quarter and setting an Interfor production record. The U.S. South and U.S. Northwest regions accounted for 452 million board feet and 173 million board feet, respectively, compared to 409 million board feet and 166 million board feet in Q4'21. Production in the B.C. region increased to 196 million board feet from 183 million board feet in Q4'21. The Acquired Eastern Canada Operations accounted for 100 million board feet in Q1'22.
Total lumber shipments were 860 million board feet, or 141 million higher than Q4'21.
The 61 million board feet shortfall of lumber shipments compared to production was the result of ongoing logistics constraints across the U.S. and Canada.

Strengthening Lumber Prices

Interfor's average selling price was $1,410 per mfbm, up $588 per mfbm versus Q4'21. The SYP Composite, Western SPF Composite and KD H-F Stud 2×4 9' price benchmarks increased quarter-over-quarter by US$475, US$506 and US$560 per mfbm to US$1,119, US$1,159 and US$1,293 per mfbm, respectively, with the majority of these increases occurring early in the quarter.

Strong Free Cash Flow Generation

Interfor generated $378.8 million of cash flow from operations before changes in working capital, or $6.38 per share. This was partially offset by a $97.6 million investment in working capital, primarily related to higher trade receivables driven by lumber prices and seasonally higher log inventories in B.C.
Net debt ended the quarter at $340.2 million, or 15.8% of invested capital, resulting in available liquidity of $483.3 million.

Strategic Capital Investments

Capital spending was $50.9 million, including $34.8 million on high-return discretionary projects. The majority of this discretionary spending was focused on the ongoing multi-year rebuild of the Eatonton, GA sawmill and a new planer at the Castlegar, BC sawmill.

Restart of the DeQuincy, LA Sawmill

Lumber production at the sawmill in DeQuincy, LA restarted on January 9, 2022, well ahead of schedule. During Q1'22, the sawmill was operating on one shift and increased to two shifts by April 2022. Ramp-up to its 200 million board foot annual capacity is expected by the end of 2022.

Normal Course Issuer Bid ("NCIB")

During Q1'22, Interfor purchased 5,026,305 common shares under the Company's NCIB for total consideration of $194.3 million. In April 2022, Interfor purchased 1,015,396 common shares for total consideration of $32.9 million. This completed the purchase of all 6,041,701 common shares allowable under the NCIB for total consideration of $227.2 million, representing an average price of $37.60 per share or 1.15 times book value per share at March 31, 2022.

Minority Interest in GreenFirst Forest Products Inc. ("GreenFirst")

On May 2, 2022, a wholly-owned subsidiary of Interfor acquired a total of 28,684,433 common shares in the capital of GreenFirst from Rayonier A.M. Canada G.P., which represents approximately 16.2% of GreenFirst's issued and outstanding common shares. The Company paid total cash consideration of $55.6 million.

Sale of Acorn Speciality Sawmill in BC

On April 12, 2022, the Company announced it had reached an agreement to sell its Acorn specialty sawmill located near Vancouver, British Columbia to an affiliate of San Industries Ltd. The completion of the transaction is subject to customary conditions and is expected to close in the second quarter of 2022.

Softwood Lumber Duties

Interfor expensed $35.8 million of duties in the quarter, representing the full amount of countervailing ("CV") and anti-dumping ("AD") duties incurred on shipments of softwood lumber from its Canadian operations to the U.S. at a combined rate of 17.91%.
Interfor has cumulative duties of US$362.1 million held in trust by U.S. Customs and Border Protection as at March 31, 2022, including US$161.2 million of duty deposits related to the Acquired Eastern Canada Operations. Except for US$104.7 million in respect of overpayments arising from duty rate adjustments and the fair value of assumed rights to duties acquired related to the Acquired Eastern Canada Operations, Interfor has recorded the duty deposits as an expense.
Outlook
North American lumber markets over the near term are expected to remain above historical trends driven by continued strong demand from new housing starts and repair and remodel activity, albeit with volatility as the North American economy adjusts to inflationary pressures, rising interest rates, logistics constraints and labour shortages.
Interfor expects lumber demand to continue to grow over the mid-term, as repair and renovation activities and new housing starts in the U.S. benefit from favourable underlying demand fundamentals. However, the potential for elevated interest rates exists, which may reduce housing affordability and slow the growth in demand for lumber.
Interfor's strategy of maintaining a diversified portfolio of operations in multiple regions allows the Company to both reduce risk and maximize returns on capital over the business cycle. Interfor is well positioned with its strong balance sheet and significant available liquidity to continue pursuing its strategic plans despite ongoing economic and geo-political uncertainty globally.
Liquidity
Balance Sheet
Interfor's Net debt at March 31, 2022 was $340.2 million, or 15.8% of invested capital, representing an increase of $503.1 million from the level of Net debt at December 31, 2021.
As at March 31, 2022 the Company had net working capital of $462.4 million and available liquidity of $483.3 million, based on the full borrowing capacity under its $500 million Revolving Term Line.
The Revolving Term Line and Senior Secured Notes are subject to financial covenants, including a net debt to total capitalization ratio and an EBITDA interest coverage ratio.
Management believes, based on circumstances known today, that Interfor has sufficient working capital and liquidity to fund operating and capital requirements for the foreseeable future.
On December 17, 2021, the Company completed an early renewal and expansion of its Revolving Term Line. The commitment under the facility was increased by $150 million to a total of $500 million, and the term was extended from March 2024 to December 2026.
Capital Resources
Interfor's Revolving Term Line matures in December 2026 and its Senior Secured Notes have maturities principally in the years 2024-2030.
As of March 31, 2022, the Company had commitments for capital expenditures totaling $128.9 million for both maintenance and discretionary capital projects.
For the full first quarter results, click here.
About Interfor
Interfor is a growth-oriented forest products company with operations in Canada and the United States. The Company has annual lumber production capacity of approximately 4.9 billion board feet and offers a diverse line of lumber products to customers around the world. For more information about Interfor, visit our website at www.interfor.com.
Contact:
Richard Pozzebon – Senior Vice President and Chief Financial Officer – (604) 422-3400
Source: Interfor Corporation