Supply Chain Pain: Rethinking Business Priorities (Part 2)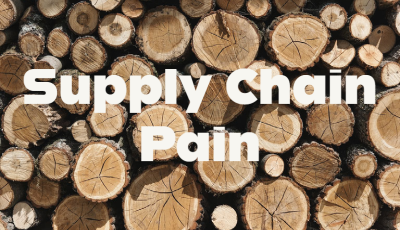 This series of articles is focused on supply chain strategies that help you rethink business priorities to ease the supply chain pain we are experiencing in a host of industries.
In our previous article, we looked at the priority of embracing contract flexibility.  This article considers the importance of safeguarding supplies.
When faced with a crisis, organizations focus on the big issues that impact supply chain success—labor, transportation, key suppliers, and major customers. Yet we learned over the last two years that the little things often matter the most.
Shortages of face masks in hospitals, semiconductors in car assembly plants, toilet paper in homes, and many other items that are assumed to always be on-hand, have proven to be major supply chain disruptors.
In the lumber industry, shortages of items that get used frequently but not necessarily every day can create works stoppages.
This includes items like shrink wrap, cleaning supplies, extra batteries for forklifts, PPE, and other key supplies, according to Doug Fisher, vice president of Insights at ProduceIQ.
"Management is being put in a position to take a harder look at everything within the company, not just the product being sold to their customers," says Fisher. "Pay closer attention to the little things that you need to keep running."
Rather than assume supplies and indirect materials will be readily available in the marketplace, lumber companies can purchase items in bulk to maintain a reasonable stockpile of supplies.
They can also build relationships with backup suppliers or join a purchasing cooperative to promote access to key supplies.
Finally, Fisher recommends using technology to track inventory, forecast future needs, and monitor performance. Each of these tactics will safeguard supplies and promote continuity of operations.
Source: Blue Book Services, Inc.