Self-Driving Trucks to Deliver Georgia-Pacific Consumer Products in Dallas Area

Georgia-Pacific has agreed to partner with self-driving vehicle startup Gatik and KBX Logistics, the transportation arm for Koch Industries, to deliver its consumer products to more than 30 Sam's Club locations in the Dallas-Fort Worth area.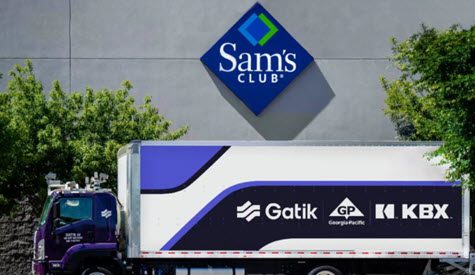 The collaboration involves moving Georgia-Pacific shipments from point to point on predefined short-haul routes using an autonomous vehicle fleet with 26-foot boxes. The trucks will deliver goods 24 hours a day, seven days a week, and are expected to travel up to three hundred miles daily.
"We are looking forward to testing this transformational technology to deliver Georgia-Pacific brands like Quilted Northern® bath tissue and Dixie® products to Sam's Clubs," said Hayes Shimp, vice president of sales for Georgia-Pacific. "Once proven, we believe autonomous deliveries will enable us to remove cost and complexity from the supply chain to better serve our partner, Sam's Club, and their members."
The operation involves Class 6 vehicles, which are significantly smaller than the Class 8 trucks that currently manage the deliveries. "Our partnership with Georgia-Pacific and KBX Logistics is poised to transform regional distribution architecture that has traditionally relied on class 8 platforms," said Gautam Narang, CEO, and co-founder, of Gatik.
"KBX Logistics is focused on providing services that increase capacity and reduce costs in a safe, efficient way for the customers we serve," said Paul Snider, President of KBX Logistics. "Our partnership with Gatik will enable us to redefine the traditional class 8 short-haul market and deliver Georgia-Pacific goods with even greater speed and efficiency.
The deliveries will begin in July 2022.
Source: Georgia-Pacific, LLC