Barchart: Lumber Price Approaches Critical Support Levels
In the commodities asset class, few futures markets experience the volatility lumber has exhibited over the past years. Lumber's lack of critical trading and hedging mass exacerbates its price variance as offers to sell disappear during rallies. Most recently, bids to buy evaporated as the price declined. Low volume and open interest in any futures arena enhance price volatility.
Lumber's price has been falling even though the latest May US consumer price index data showed inflation at the highest level since December 1981 at 8.6%. The producer price index has risen by double-digits over the past months.
Some analysts point to the lumber market as evidence that inflation is peaking, but they are using a dubious indicator, given lumber's wild price swings. Moreover, above $500 per 1,000 board feet, the wood price remains the highest in history before 2018.
Lumber reaches a lower high in 2022 and tanks
In May 2021, lumber futures reached an all-time high of $1711.20 per 1,000 board feet. After dropping to a low of $488 three months later, in August 2021, the lumber futures market found a bottom.
The chart highlights lumber future's recovery that took the price to a lower high of $1,477.40 per 1,000 board feet in early March 2022, where it ran out of upside steam. Over the past three months, lumber has been a falling knife, with the price moving below the $570 level on June 16.
Support is close by at the November and August 2021 lows
As the lumber market continued to trend lower on June 16, the price was moving toward a test of two critical level support levels.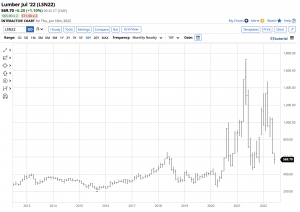 The monthly chart illustrates lumber fell below the first support area at the November 2021 $530.10 low when it reached $517. The next downside target stands at the August 2021 $488 low.
A higher low would be a bullish sign- Higher rates are bearish, but there are still lingering bullish factors in the lumber arena
Lumber made a higher low in November 2021 before the price exploded to nearly $1480 per 1,000 board feet. Another higher low above the $488 level would be a constructive technical sign for the lumber market. On June 13, the price dropped to a $517 low as it moves towards a test of the critical support level.
Rising interest rates are weighing on the lumber market. At the end of 2021, a thirty-year fixed-rate mortgage was just below the 3% level. Six months later, in June 2022, the 6% conventional mortgage rate means that the payment on a $300,000 loan has increased by at least $750 per month. The significant increase in mortgage rates is weighing on new home demand.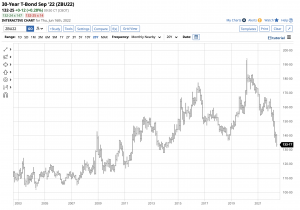 The chart shows the decline in the US 30-Year Treasury bond futures to the lowest level in eight years.
Meanwhile, housing demand remains robust despite the rate increase as a shortage of new homes is a bullish factor for the lumber market. Moreover, rebuilding US infrastructure will require lumber, a critical construction input.
Lumber is a market to watch, not to trade
On February 11, 2022, 1,547 lumber contracts changed hands, the highest number this year. On January 27, 1,353 contracts were traded. The total volume in the lumber futures market was over 1,000 on only three days in 2022. The average daily volume was below 500 contracts. As of June 15, the total number of open long and short positions in the lumber futures market was 2,363 contracts. The open interest and volume levels make lumber an extremely illiquid futures market.
I view lumber futures as a benchmark or a reference price for wood, not as a candidate for any potential risk position. Lumber future's illiquidity makes it a dangerous arena for speculators, hedgers, and all market participants.
Watch and monitor lumber's price but never attempt to trade, speculate, or invest in the futures arena.
Expect volatility to continue
Lumber has plunged from $1477.40 in March to below $520 per 1,000 board feet in June. Meanwhile, at over $500, lumber remains at a price above the pre-2018 all-time peak.
Volatility will likely continue in the lumber futures arena because of the low market participation level. Expect prices to fall and rise to irrational, illogical, and unreasonable levels, which can defy technical support and resistance levels.  Lumber futures and price variance are synonymous.
Source: Barchart.com, Inc.