Supply Chain Pain: Rethinking Business Priorities (Part 3)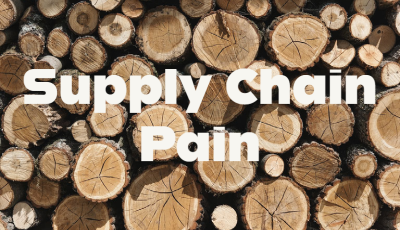 This series of articles is aimed at helping your company rethink business priorities to ease the supply chain pain we are experiencing in a host of industries.
In previous articles (Part 1, Part 2), we considered the priorities of embracing contract flexibility and safeguarding supplies.  We conclude this series by considering two more important priorities.
Appreciate Frontliners
If we learned anything during the early days of the pandemic, it's that supply chain team members are essential workers. Frontline staff working in the yard or warehouse perform critical tasks and provide the capability to keep up with demand.
Competition for these frontline workers is intense. Which is why it's vital to compensate team members fairly, treat them with respect, and provide positive working conditions. In short, the priority must be to create a positive culture that promotes productivity and retention.
Given the transportation capacity crunch, the same goal applies to truck drivers. While they are not typically the direct employees of lumber companies, drivers are an indispensable group who impact success.
"I've been saying for 25 years, be good to the drivers because they take care of your product and they represent you to customers," notes Kenny Lund, executive vice president at Allen Lund Company, LLC.
The priority for lumber companies is to be known as shippers of choice that drivers want to serve. This means loading and unloading freight quicky, paying freight bills in a timely fashion, and communicating effectively. Being driver-friendly can generate needed capacity.
"I had a bakery account that would give every truck driver a cup of coffee and a case of baked goods," recalls Lund. "Drivers would request their loads even though the pay was $100 less than a similar load for other shippers."
Diversify Resources
Putting all your proverbial eggs in one basket is a risky proposition. A wide range of problems can jeopardize product flows originating from a single supplier or region.
Our experts discussed multiple challenges—weather, regulation, labor availability, and transportation capacity—that serve as the impetus for geographic diversification of the supplier community.
Diversification is also a valuable tool to alleviate product availability risks related to supplier consolidation and acquisition of smaller competitors. Doug Fisher, vice president of Insights at ProduceIQ, notes that companies shouldn't be solely reliant on a small player whose capacity is eliminated or becomes dedicated to larger buyers. He suggests a network approach to sourcing.
"A network is a lot less risky than a chain," Fisher explains. "If one link in a supply chain breaks, then you've got a problem. A network of suppliers provides redundancy and resiliency from more people working together."
Alleviating the supply chain pains of the last two years has not been an easy proposition—it required creativity, energy, investment, and a willingness to embrace chaos.
Yet chaos can be viewed as an opportunity to refine strategies and restructure networks for greater supply chain agility.
Deploying the measures discussed in this 3-part article series can help provide stability in the current environment and create resiliency for future disruptions, especially when in aligned with other key initiatives intended to cultivate talent, deploy automation, and support key customers.
Lastly, underpin these strategies with strong relationships across the supply chain—because no organization succeeds in this environment on its own.
Source: Blue Book Services, Inc.