Resolute Announces Ratification of Collective Agreement at Eight Sawmills in Quebec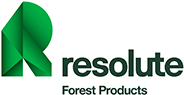 Resolute Forest Products Inc. (the "company") announces the ratification of a four-year labor agreement with the Unifor union covering 1,000 employees working in eight of the company's Quebec sawmills, following an agreement-in-principle reached on July 15.
"We are pleased to have renewed the labor agreement with employees of this important business segment," said Remi G. Lalonde, president and chief executive officer. "The collective agreement underscores their contribution to the company's success and provides stability for our customers, communities and other partners."
The collective agreements ratified on July 22 cover hourly employees represented by Unifor at Resolute's Comtois, Girardville, La Doré, Maniwaki, Mistassini, Normandin, Outardes and Saint-Thomas facilities.
About Resolute Forest Products
Resolute Forest Products is a global leader in the forest products industry with a diverse range of products, including market pulp, tissue, wood products and papers, which are marketed in over 60 countries. The company owns or operates some 40 facilities, as well as power generation assets, in the United States and Canada. Resolute has third-party certified 100% of its managed woodlands to internationally recognized sustainable forest management standards. The shares of Resolute Forest Products trade under the stock symbol RFP on both the New York Stock Exchange and the Toronto Stock Exchange. Resolute has received regional, North American and global recognition for its leadership in corporate social responsibility and sustainable development, as well as for its business practices. Visit www.resolutefp.com for more information.
Contact:
Marianne Limoges – Treasurer and Vice President, Investor Relations – ir@resolutefp.com – (514) 394-2217
Source: Resolute Forest Products Inc.