White Cap Associate Recognized as an Esteemed Veteran by Local Government

On Monday, July 11, White Cap Recruiter Steve Haynes was honored as an Esteemed Veteran of Roswell, GA by Roswell Mayor Kurt Wilson and the Roswell City Council.
To earn the honor of Esteemed Veteran, one must exemplify outstanding service to both the country and community. Steve Haynes did just that.
In 1976, Steve began his military career as Second Lieutenant in the United States Air Force. He served as a Weapons Systems Officers in the 339th Tactical Fighter Squadron at Moody Air Force Base before he moved on to become Captain and Flight Instructor at Kunsan Air Base in the Republic of Korea. In his 12 years of military service, Steve earned numerous medals and decorations including:
Air Force Commendation Medal with one Oak Leaf Cluster
Air Force Outstanding Unit Award
Combat Readiness Medal with one Oak Leaf Cluster
Air Force Short Tour Ribbon
Air Force Longevity Service Award Ribbon with one Oak Leaf Cluster
Air Force Training Ribbon
Georgia Commendation Medal
Steve continued to serve his fellow veterans by co-founding VetBuds in 2011. VetBuds' mission is to support and provide assistance to other veterans. Steve and the members of VetBuds have raised thousands of dollars for veteran programs, assisted homeless veterans with food and shelter, provided professional counseling to veterans and countless other acts of service.
Congratulations to Steve for being honored as an Esteemed Veteran! White Cap is proud to have Steve and so many other veterans on our team! These associates embody our TRUSTED values of Unwavering commitment and Service to their country, communities, and customers. Thank you!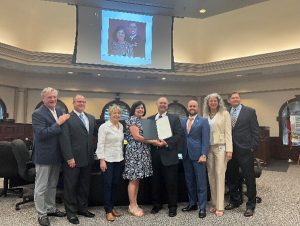 White Cap recognizes the incredible value gained from military service. If you're a retired servicemember and want to join a winning team at White Cap, apply today! Click here for more information.
Source: White Cap Supply Holdings, LLC