Madison's Reporter: Lumber Prices Dip as Seasonal Slowdown Arrives

Most softwood lumber and panel prices dropped significantly on a holiday-shortened week in Canada, as customers were well stocked with wood and producers faced shrinking order files. All of which is normal for this time of year. Something very interesting is that this current price matches very closely to the same week in 2020. Are we in for a repeat of that trend line as this year will draw to a close? It is impossible to say right now, as there are some quite different circumstances which have a powerful effect on lumber prices. Most notably:  increasing mortgage rates, which are dampening home sales and house prices. At the same time, it is important to note that the ratio of investor buying of houses and property has been steadily going up since 4Q 2021. The lending for investors is quite different; these players are not affected by mortgage rates.
Check back with the Madison's website www.madisonsreport.com often for the latest softwood lumber prices and market updates.
Dropping markedly after two weeks flat, for the week ending August 5, 2022 the price of benchmark softwood lumber item Western Spruce-Pine-Fir 2×4 #2&Btr KD (RL) was US$610 mfbm, said weekly forest products industry price guide newsletter Madison's Lumber Reporter. This is down by -$74, or -11% from the previous week when it was $684, and is down by -$61, or -9%, from one month ago when it was $671.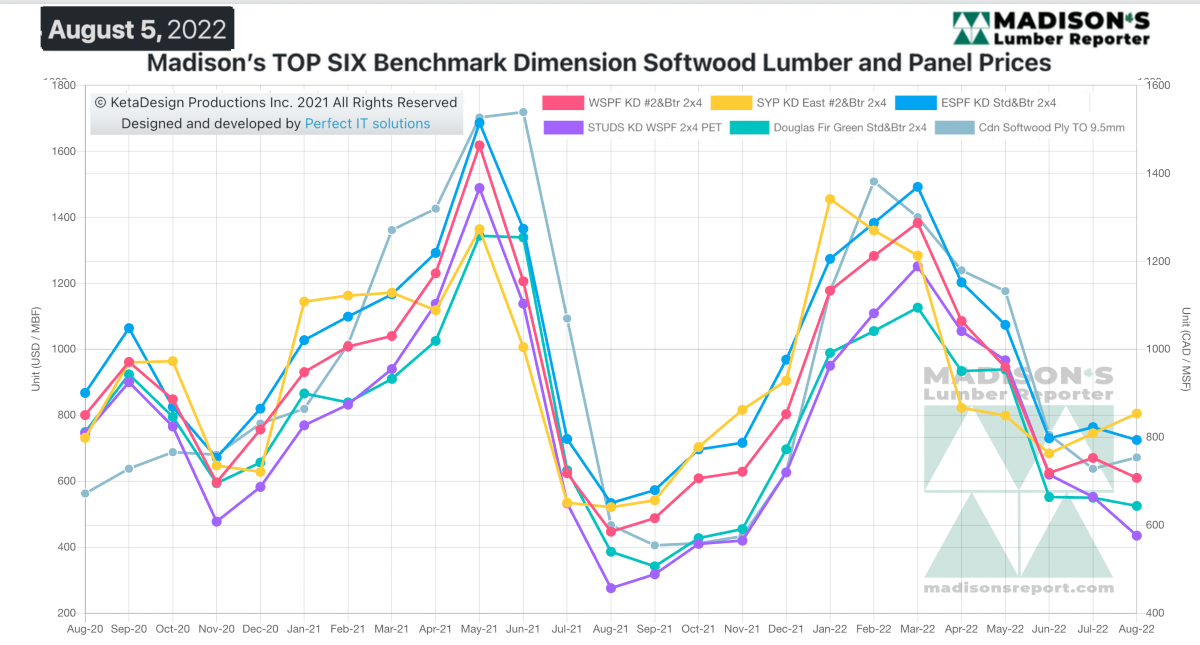 Western US sawmills were unable to extend their order files past the weeks of August 15th and 22nd.
"During a quiet summer week, downward pressure and overall weakening sentiment in lumber percolated into panels." — Madison's Lumber Reporter  www.madisonsreport.com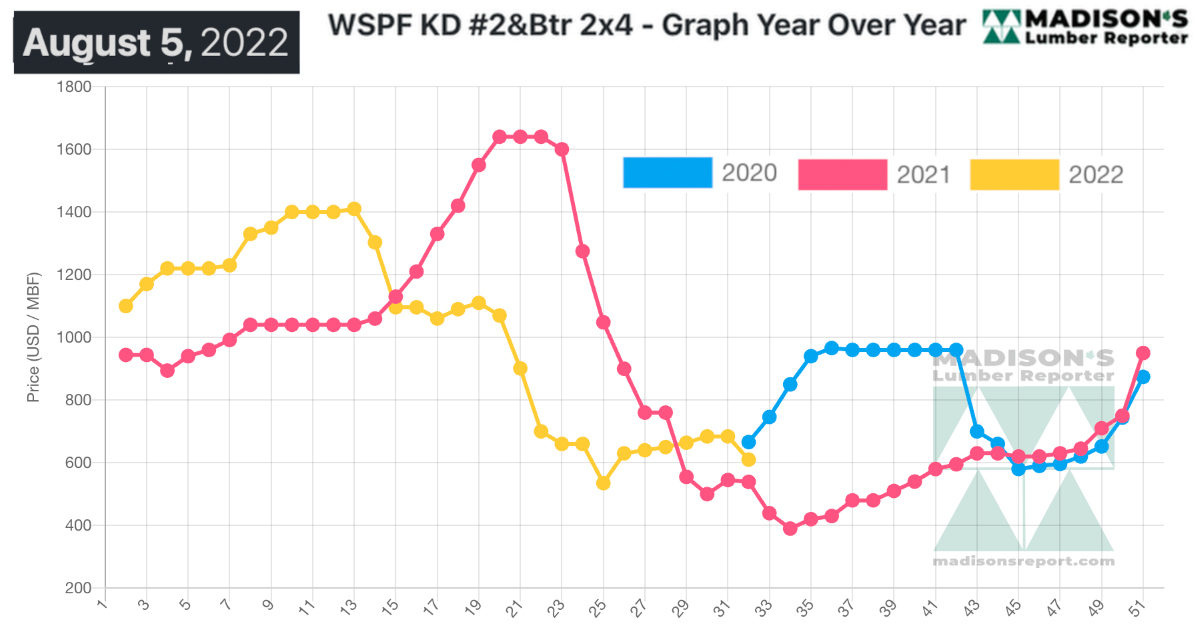 August kicked off with weak demand according to producers of Western S-P-F commodities in the United States, and the tone only got quieter from there. Lower asking prices did little to entice buyers, despite their depleted inventories. It was a delicate balancing act; as they needed enough wood headed their way to keep jobsites going and compensate for delayed shipments, but not too much that they ended up with an excess of expensive inventory if prices suddenly reverse course.
Western S-P-F  suppliers reported a continuation of sagging sales activity and commodity prices during this holiday-shortened week in Canada. Many buyers were absent from the market altogether as they took summer vacations, and those who participated stuck to immediate needs only. The tone from the distribution network was mixed, with some secondaries describing a summer malaise while others noted decent inquiry and takeaway. The flow of material from supplier to buyer was palpably smoother as logistical issues weren't as common, with less overall volume in transit in recent weeks.
"The summer slowdown was in full effect this week according to the few remaining Eastern Canadian lumber traders who weren't off on vacation. Sales volumes didn't improve even with producers cutting their asking prices by double digits in many cases. Buyers remained quiet, only stepping in for small volumes of fill-in material when necessary. Sawmill order files were around two weeks out, with the lion's share of production available for mid-August shipment. Quebec producers and construction workers will finish their two-week summer shutdown hiatus on Monday of next week."         — Madison's Lumber Reporter  www.madisonsreport.com
Madison's Benchmark Top-Six Softwood Lumber and Panel Prices: Monthly Averages 

Compared to the same week last year, when it was US$539 mfbm, the price of Western Spruce-Pine-Fir 2×4 #2&Btr KD (RL) for the week ending August 5, 2022 was up by +$71, or +13%. Compared to two years ago when it was $666, that week's price is down by -$56, or -8%.
About Madison's Lumber Reporter
Established in 1952, Madison's Lumber Prices is your premiere source for North American softwood lumber news, prices, industry insight, and industry contacts. The weekly Madison's Lumber Reporter publishes current Canadian and US construction framing dimension lumber and panel wholesaler pricing information 50 weeks a year and access to historical pricing as well.
Contact:
Keta Kosman – Publisher, Madison's Lumber Reporter – (604) 319-2266 – www.madisonsreport.com
Source: Madison's Lumber Reporter