Over 100 Students Awarded with an Ashley Furniture Scholarship for the 2022-2023 School Year

School is back in session across most of the country and over 100 students are heading off to college with a scholarship from Ashley Furniture Industries, LLC (Ashley) and the Wanek family. The company's scholarship programs, which are awarding over $294,000 this year, support students who are choosing to further their education in a variety of fields.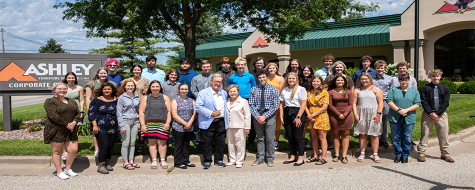 "I am extremely grateful to work for a company that is able and willing to support the higher education of their employee's children. I was so proud to see the excitement on my son's face when he received the scholarship." -Dan Myers, Ashley Employee
"The Ashley Furniture Scholarship is helping me achieve my personal goals to pursue my passion to be an engineer." -Aidan Myers, Ashley Scholarship Recipient
Each year, Ashley provides two separate scholarship opportunities for children of Ashley employees who are graduating high school. The 'Ashley Grants-in-Aid Scholarship' provides a $2,000, one-time scholarship to graduating high school students who are enrolled in an accredited college or university during the following fall semester. The 'Wanek Engineering and Design Scholarship' is a $5,000 scholarship provided to graduating high school students pursuing a secondary degree in an Engineering or Design field.
"With the price of college tuition continuing to go up, we greatly appreciate all the financial help Ashley Furniture has given to our children over the years. All three of our children have received scholarships from Ashley, which has helped reduce the amount of student loans our children had to incur. Thank you doesn't seem adequate for how grateful we are to the Wanek family for their generosity." -Janice Knudsen, Ashley Employee
Scholarships were awarded to students in Wisconsin, Pennsylvania, North Carolina, Mississippi, Florida, Washington and California. Some of the Ashley facilities held scholarship ceremonies that recipients and their families were invited to for a presentation and tour of the company to learn more about career opportunities at Ashley, followed by a celebration for the recipients.
Ashley and the Wanek family have provided millions of dollars towards education initiatives, in-kind services and more than 3,000 student scholarships. As manufacturing continues to advance and the global economy evolves, training and educating the future workforce will be a crucial part of our country's success. To learn more about Ashley's efforts in education, visit www.aficares.com.
About Ashley Furniture
Ashley Furniture Industries, LLC (Ashley) feels that every person deserves more value for their money. Established in 1945, Ashley is the largest manufacturer of home furnishings in the world, and was named one of America's Best Employers by Forbes in 2021. From design through fulfillment, Ashley is committed to delivering the world's best home furnishing values, selection and service, and earning the loyalty and trust of its customers every day. Visit Ashley online at www.ashleyfurnitureindustriesllc.com and "like" Ashley Furniture Industries on Facebook.
Source: Ashley Furniture Industries, LLC