Madison's Reporter: Post-Labour Day Brings Stable Lumber Prices

Historically for the softwood lumber and panel market, the week following Labour Day is the harbinger for what prices will be until the true seasonal slowdown arrives at US Thanksgiving. For the past two years, of course, the annual cycle of lumber price changes has not been anything approaching the historical trends. Could this year be the beginning of what industry will come to know as normal? There was definitely a drop in demand, as is to be expected for the time of year; however, during this past summer the sawmills responded quickly to market conditions by curtailing production and taking downtime. Thus, the supply-demand balance could seem to be equitable. As such, lumber manufacturers and wholesalers were able to hold on to price levels of the previous week on most items.
Check back with the Madison's website www.madisonsreport.com regularly to be informed of what to look for next.
Continuing the waffling of most of this summer, for the week ending September 2, 2022 the price of benchmark softwood lumber item Western Spruce-Pine-Fir 2×4 #2&Btr KD (RL) was US$554 mfbm, said weekly forest products industry price guide newsletter Madison's Lumber Reporter. This is down by -$1, or -0% from the previous week when it was $555, and is down by -$49, or -8%, from one month ago when it was $603.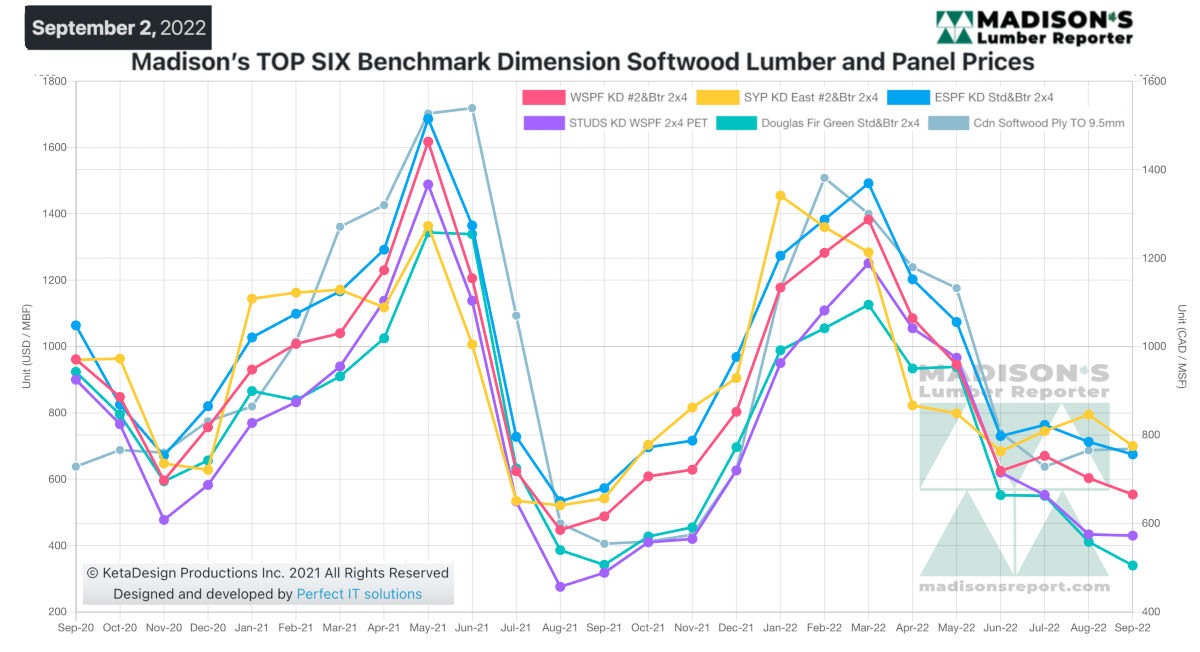 Buyers were in the driver's seat as they played primary and secondary suppliers off each other, choosing the best combinations of price and shipment at their leisure.
"Demand for solid wood commodities was muted this week as players looked toward the post-Labour Day litmus test of market conditions."
— Madison's Lumber Reporter www.madisonsreport.com

Western S-P-F purveyors producers in the United States reported little success as they lowered asking prices in a bid to entice hesitant customers. Throngs of players were off as early as midweek for extended Labour Day weekend vacations, turning already-middling demand into a resounding snooze fest. Sawmill order files continued to shrink, with prompt availability apparent on most items.
Demand for Western S-P-F commodities remained lackluster this week according to suppliers in Canada. Producers responded by adjusting their asking prices again on #2&Btr dimension items. Supply remained definitively ahead of demand in R/L, and most products showed prompt availability. Buyers continued to manage their largely-depleted inventories and felt no pressure to act just yet. The Canadian Federal Government announced this week it will formally challenge US duties on Canadian softwood lumber under the Canada-US-Mexico trade agreement's dispute resolution system.
"Eastern Canadian traders were optimistic that a round of buying was in the offing – likely following Labour Day – but for now sales activity in the Eastern SPF market remained weak. Demand was a different story as suppliers reported plenty of inquiry, just not much follow-through. Wholesalers and distributers were apparently very aggressive with their numbers as they tried to move product, while mills also brought down their asking prices, albeit more judiciously. There was a small jot of activity later in the week as a number of buyers jumped in to cover immediate needs in advance of the holiday weekend. Order files ranged between prompt and September 12th."
— Madison's Lumber Reporter www.madisonsreport.com
Madison's Benchmark Top-Six Softwood Lumber and Panel Prices: Monthly Averages
Compared to the same week last year, when it was US$430 mfbm, the price of Western Spruce-Pine-Fir 2×4 #2&Btr KD (RL) for the week ending September 2, 2022 was up by +$124, or +29%. Compared to two years ago when it was $966, that week's price is down by -$412, or -43%.
Contact:
Keta Kosman – Publisher, Madison's Lumber Reporter – (604) 319-2266 – www.madisonsreport.com
Source: Madison's Lumber Reporter