84 Lumber Donates to Women Undergoing Breast Cancer Treatment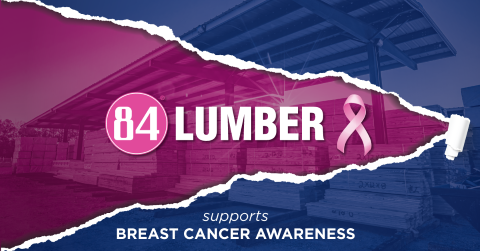 For the seventh year in a row, 84 Lumber, the nation's largest privately held building materials supplier, is raising awareness for breast cancer throughout the month of October. Each year, the company changes its iconic 84 logo to pink on all social media platforms, donates to various charitable organizations, and more. Today, 84 Lumber announced its 2022 initiatives for this year's Breast Cancer Awareness Month.
"84 Lumber is committed to spreading awareness and donating to breast cancer research across our stores, team headquarters, and social media channels," said Amy Smiley, Vice President of Marketing. "Being a women-owned company, spreading awareness has been a key focus for us and we will continue to lend support for many years to come."
"This is a disease that touches many inside and outside of our 84 Lumber family, and we are dedicated to partnering with organizations committed to supporting breast cancer awareness," said Smiley.
84 Lumber is bringing awareness to breast cancer this month by the following:
Donating a total of $40,000 to a number of charities, by partaking in a "Donation of the Week," where the company commits to $10,000 a week to various charities, including: Clea Shearer Foundation, David's Dream and Believe Cancer Foundation, Pink Ribbon Girls, and Hair Peace.
The company also will be distributing gift boxes to send to patients and supporters through the Washington Healthcare System. Gifts will include an assortment of crewnecks, tumblers, Kendra Scott jewelry and more.
84 Lumber is sharing breast cancer awareness messages on select billboards across Pittsburgh for the entire month.
About 84 Lumber
Founded in 1956 and headquartered in Eighty Four, Pennsylvania, 84 Lumber Company is the nation's largest privately held supplier of building materials, manufactured components and industry-leading services for single- and multi-family residences and commercial buildings. The company operates more than 250 stores, component manufacturing plants, custom door shops, custom millwork shops and engineered wood product centers in over 30 states. 84 Lumber also offers turnkey installation services for a variety of products, including framing, insulation, siding, windows, roofing, decking and drywall. A certified national women's business enterprise owned by Maggie Hardy Knox, 84 Lumber has held a spot on the Inc. 5000 list of America's fastest growing companies for several years in a row. For more information, visit 84lumber.com or join the company on your favorite social media platform.
Contact:
Amy Smiley – Vice President of Marketing – Amy.smiley@84lumber.com – (724) 228-8820 ext. 1585
Source: 84 Lumber Company