Interfor Announces Temporary Production Curtailments in Q4'22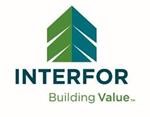 Interfor Corporation ("Interfor" or the "Company") announced plans to reduce its lumber production output in the fourth quarter of 2022 by approximately 200 million board feet, or 17% of quarterly capacity, as current economic conditions and market uncertainty have led to reduced lumber demand. This temporary reduction in output is expected to be spread across each of the Company's operating regions, primarily timed around U.S. Thanksgiving and Christmas holiday periods, and used to accelerate ongoing capital and maintenance projects.
The Company's lumber inventories are currently within normal volume parameters, and these plans are expected to maintain the balance between production and market demand through the remainder of 2022. The Company currently expects to resume its normal operating schedule in January 2023, but will closely monitor market conditions and adjust its production plans accordingly.
About Interfor
Interfor (TSX: IFP) is a growth-oriented forest products company with operations in Canada and the United States. The Company has annual lumber production capacity of approximately 4.7 billion board feet and offers a diverse line of lumber products to customers around the world. For more information about Interfor, visit our website at www.interfor.com.
Contact:
Svetlana Kayumova – Senior Manager, Corporate Affairs & Communications – svetlana.kayumova@interfor.com – (604) 422-7329
Source: Interfor Corporation