Packaging Corporation of America Reports Third Quarter 2022 Results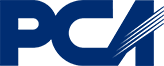 Packaging Corporation of America reported third quarter 2022 net income of $262 million, or $2.80 per share, and net income of $266 million, or $2.83 per share, excluding special items. Third quarter net sales were $2.1 billion in 2022 and $2.0 billion in 2021.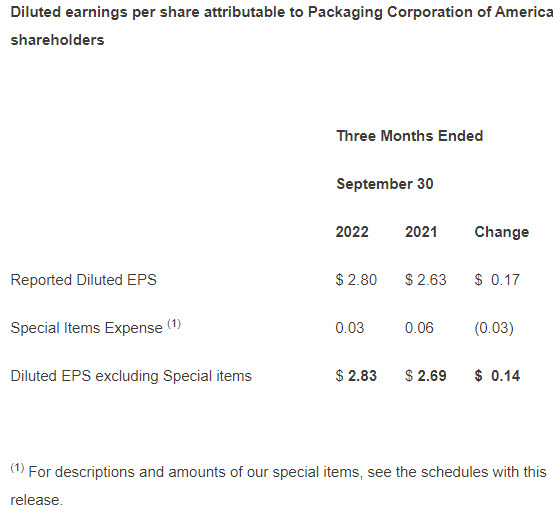 Reported earnings in the third quarter of 2022 include special items primarily for certain costs at the Jackson, AL mill for paper-to-containerboard conversion related activities.
Excluding special items, the $.14 per share increase in third quarter 2022 earnings compared to the third quarter of 2021 was driven primarily by higher prices and mix in our Packaging $1.60 and Paper $.23 segments, lower interest expense $.04, a lower share count resulting from share repurchases $.04, and a lower tax rate $.02. These items were partially offset by higher operating costs ($.77), lower volume in our Packaging ($.52) and Paper ($.05) segments, higher freight and logistics expenses ($.20), higher scheduled outage expenses ($.10), higher depreciation expense ($.07), higher converting costs ($.04), and other expenses ($.04).
Results were $.03 above third quarter guidance of $2.80 per share primarily due to higher prices and mix in our Packaging and Paper segments and lower operating costs.
Financial information by segment is summarized below and in the schedules with this release.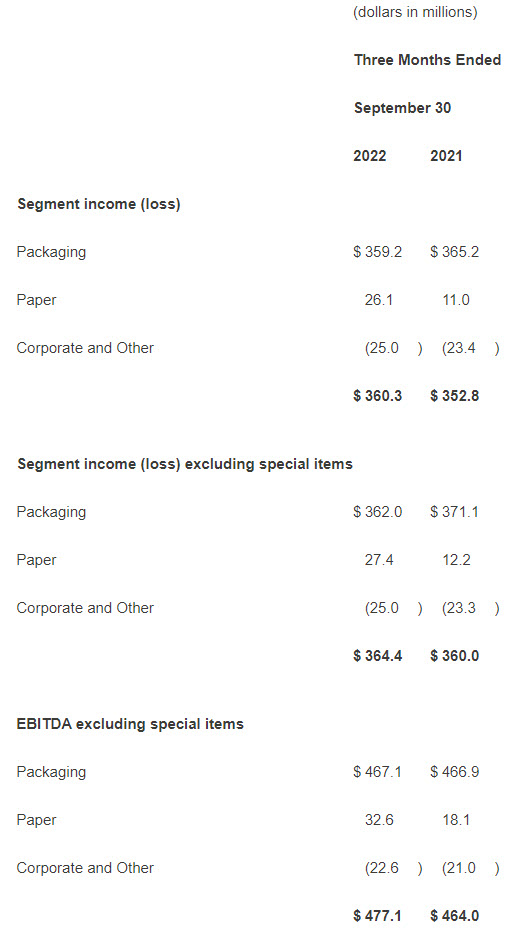 In the Packaging segment, total corrugated products shipments and shipments per day were down (6.0%) over last year's third quarter. Containerboard production was 1,116,000 tons, and containerboard inventory was up 11,000 tons from the third quarter of 2021 and up 22,000 tons compared to the second quarter of 2022. In the Paper segment, sales volume was down 13,000 tons compared to the third quarter of 2021, and up 6,000 tons compared to the second quarter of 2022.
Commenting on reported results, Mark W. Kowlzan, Chairman and CEO, said, "We were able to exceed our guidance for the quarter even though we continued to experience significant cost inflation across the Company and demand in our Packaging segment was well below our expectations. Implementation of our previously announced price increases in the Packaging and Paper segments continued to generate excellent results, and our mills and plants remained focused on lowering operating costs through process efficiency optimization efforts and material usage initiatives. We also ran our containerboard system in a very cost-effective manner to match our supply with demand, and the scheduled outages in our mills were executed very well."
"Looking ahead as we move from the third and into the fourth quarter," Mr. Kowlzan added, "we see most of the issues that impacted third quarter Packaging segment demand continuing, and we will run our containerboard system based on this current outlook. At our Jackson, Alabama mill we will be completing the scheduled annual maintenance outage as well as the first phase of the containerboard conversion work on the No. 3 machine. Our box plants will have four less shipping days in the fourth quarter, and we also expect a seasonally less rich mix in corrugated products as well as lower average export containerboard prices. In our Paper segment, we will continue to implement our price increase that took effect in September; however, volume will be lower compared to the seasonally stronger third quarter. Scheduled outage expenses will be higher, and we expect slightly higher operating costs, primarily labor and benefit expenses, along with anticipated colder weather resulting in higher energy costs. Considering these items, we expect fourth quarter earnings of $2.22 per share."
For the complete press release, click here.
About Packaging Corporation of America
PCA is the third largest producer of containerboard products and a leading producer of uncoated freesheet paper in North America. PCA operates eight mills and 90 corrugated products plants and related facilities.
Contact:
Barbara Sessions – Investor Relations – (877) 454-2509
Source: Packaging Corporation of America