L&W Supply Opens Location in Pittsburgh, Pennsylvania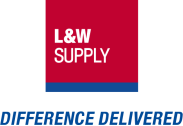 L&W Supply, a nationwide distributor of interior building materials and construction supplies, has opened a new location in Pittsburgh, Pennsylvania. This is L&W Supply's first location in the Pittsburgh metropolitan area.
Don Hall manages the branch. Hall first joined L&W Supply in 2019 as delivery services manager at L&W Supply's Roanoke, Virginia, location. He recently graduated from the company's Branch Management Training Program. Hall has 30 years of experience in distribution.
"We are excited to introduce L&W Supply to the Pittsburgh area," said John McLaughlin, vice president of L&W Supply's Northeast Region. "This location will allow L&W Supply to expand our services to local contractors, ensuring they have the products and tools they need to be successful."
"Don's decades of experience, along with his tremendous work ethic, are exactly what we need to kick-start this branch," said L&W Supply's Great Lakes District Manager Tracy Hein. "He and his team are ready to begin building relationships with Pittsburgh contractors and show them how L&W Supply can make their jobs easier."
The Pittsburgh branch hours are 6:30 a.m. to 4 p.m., Monday through Friday. For more information, contact the branch at 412-733-3966 or visit the branch webpage at https://lwsupply.com/locations/lw-supply-pittsburgh-pa/.
About L&W Supply
Since 1971, L&W Supply has been recognized as a world-class interior products company and is one of the nation's largest distributors of wallboard, suspended ceiling systems, steel studs, joint treatment, insulation, fasteners and related building products. L&W Supply was acquired by ABC Supply in November 2016. Headquartered in Chicago, Illinois, L&W Supply operates over 200 branches in 40 states. More information about L&W is available online at www.lwsupply.com.
About ABC Supply
ABC Supply Co. Inc. is the largest wholesale distributor of roofing in the United States and one of the nation's largest wholesale distributors of select exterior and interior building products. Since its founding by Ken and Diane Hendricks in 1982, ABC Supply's sole focus has been serving professional contractors and "making it easy" for them to do their jobs by offering the products, support and services they need. A 16-time Gallup Exceptional Workplace Award winner and two-time recipient of Glassdoor's Employees' Choice Award for Best Places to Work, ABC Supply is an "employee-first" company that treats its associates with respect and gives them the tools they need to succeed. Headquartered in Beloit, Wisconsin, ABC Supply has over 840 locations nationwide. More information is available at www.abcsupply.com.
Contact:
Marcie Waters – Media Contact – mwaters@hiebing.com – (608) 256-6357
Source: L & W Supply Corporation