Madison's Reporter: Good Construction Weather Props Up Lumber Prices Slightly

Into the latter weeks of October, mild weather in many of the densely-populated areas of the US provided the opportunity for an increase in construction activity. As such, demand for dimension lumber and other solid wood building materials brought a bump up in lumber prices, due to limited supply in the field. Sawmills and wholesalers both had been keeping inventories low in expectation of true winter and the end of most housing construction until spring re-appears. As well, an ongoing work-stoppage at Weyerhaueser's production facilities in the US northwest impacted supply of west coast species, most notably Douglas fir. As a result, those prices jumped by a larger degree than other lumber commodities.
Check back with the Madison's website www.madisonsreport.com regularly to be informed of what to look for next.
Reversing a few weeks of drops, in the week ending October 21, 2022, the price of benchmark softwood lumber item Western Spruce-Pine-Fir 2×4 #2&Btr KD (RL) was US$480 mfbm, said weekly forest products industry price guide newsletter Madison's Lumber Reporter. This is up by +$35, or +8% from the previous week when it was $445, and is down by -$44, or -8%, from one month ago when it was $524.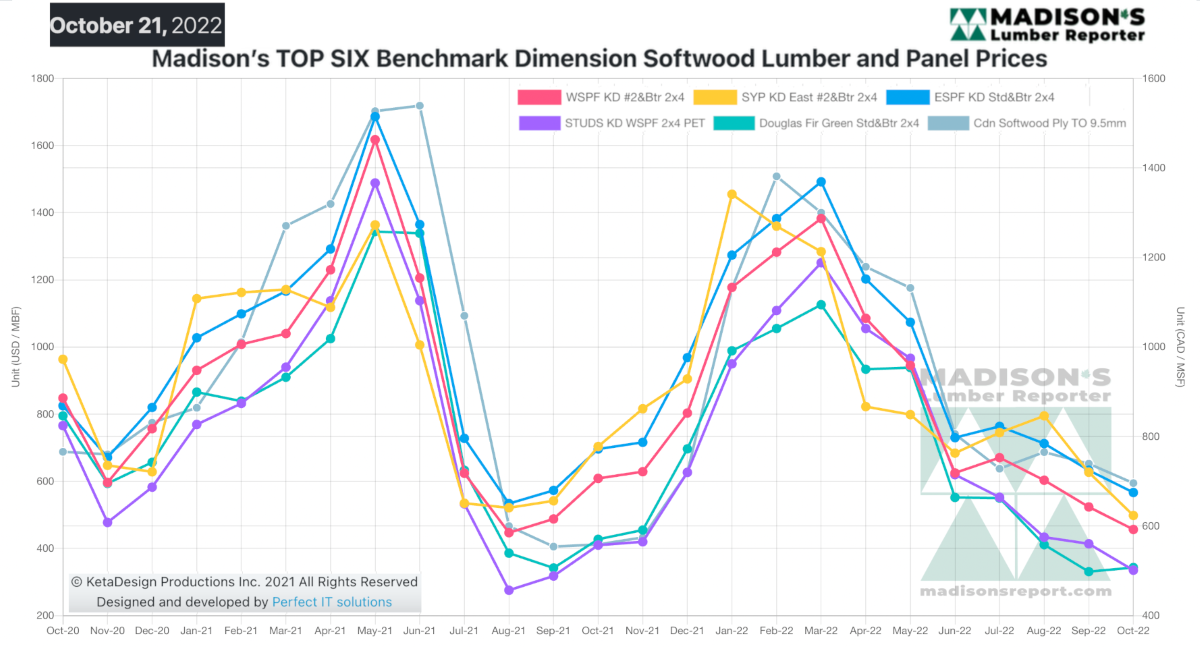 Thanks to the ongoing Weyerhaueser strike in the Northwest United States, overall supply of green Douglas-fir lumber and studs remained tight.
"Sporadic sales in most product categories fuelled uncertainty while keeping inventories lean at all levels." — Madison's Lumber Reporter www.madisonsreport.com

Western S-P-F traders in the United States reported a more even playing field as the supply-demand balance appeared to stabilize. Narrow widths remained the most often-transacted, with price levels firming up on 2×4 and 2×6. Many construction markets in the US continued to benefit from surprisingly clement autumn weather, forcing the hands of numerous heretofore hesitant buyers. Those from Texas and other Southwestern States were apparently driving much of that demand, with consistent consumption coming from the multifamily and mixed commercial construction sectors in particular.
The Western S-P-F market appeared to be settling into a more balanced trading scenario according to players in Canada. While prices of low grade offerings were flat but firm, sawmills showed their confidence in #2&Btr and High Line items with some tangible price hikes. Demand for 2×4 chugged along, but 2×6 was the hotter topic of conversation among traders. Supply of that latter bread-and-butter width has been tightening up over the past several weeks while it stayed out of the spotlight. Wides remained slight in supply and stable in terms of demand. Late-October or early-November order files prevailed.
"Day-to-day demand for Douglas fir was like an on/off switch, with rail car sales in excess of 200 one day before plunging down to less than 50 the next. Demand for wide dimension items was by far the strongest in the complex, as supply shortages were particularly acute in 2×10 and 2×12. Producer order files for those widths were into the second week of November, while studs and the rest of dimension were out to November 7th. The market's tone was negative, but there was still plenty of liquidity."
— Madison's Lumber Reporter www.madisonsreport.com
Madison's Benchmark Top-Six Softwood Lumber and Panel Prices: Monthly Averages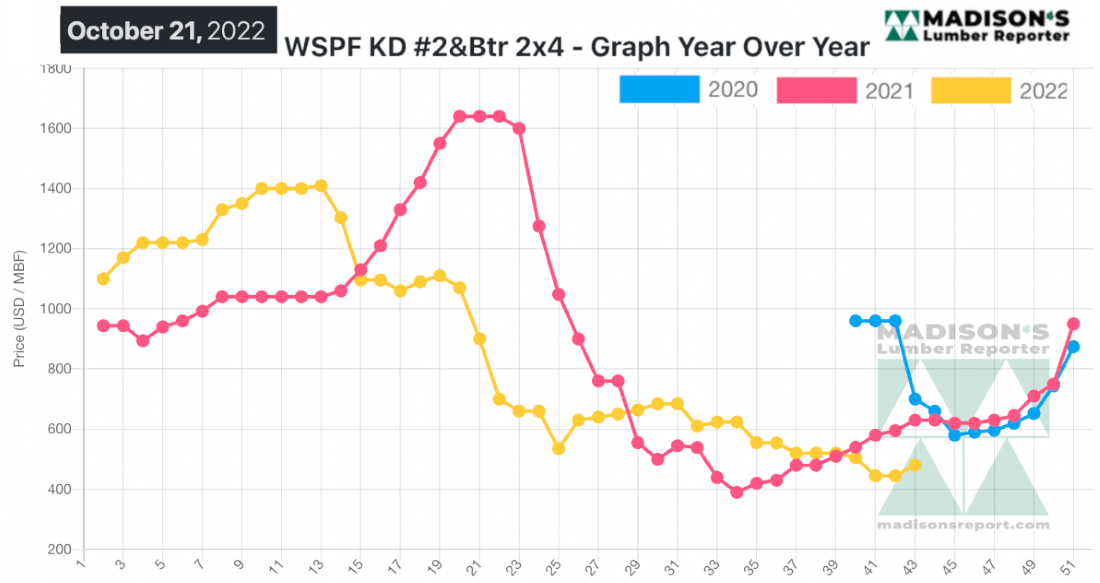 Compared to the same week last year, when it was US$630 mfbm, the price of Western Spruce-Pine-Fir 2×4 #2&Btr KD (RL) for the week ending October 21, 2022 was down by -$150, or -24%. Compared to two years ago when it was $700, that week's price is down by -$220, or -31%.
Contact:
Keta Kosman – Publisher, Madison's Lumber Reporter – (604) 319-2266 – www.madisonsreport.com
Source: Madison's Lumber Reporter