Obituary: Robert D. Keiver
Robert D. Keiver, age 89, of Marblehead, MA, passed away peacefully surrounded by his loving family on Thursday, November 10, 2022, after a brief illness.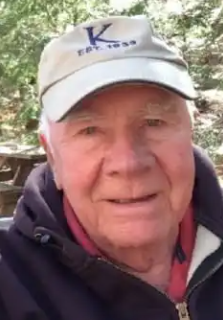 Bob was born in Cambridge, MA to Laura (Foster) and Osmund O. Keiver Sr. on May 31,1933. He graduated from Swampscott High School in 1952. He spent a year at North Carolina State before enlisting in the army and stationed in Panama. He married his Marblehead High School sweetheart, Patricia Crosby Keiver, on April 14,1956. They were married for 52 wonderful years, until Pat's death in 2010. They built their home in Marblehead where they raised their family and always resided.
O.O. Keiver Lumber Company is where he started his career in 1956. After the business had a fire, Bob's father reopened the company as Keiver-Willard Lumber Corp in Beverly MA. Bob became president and remained active in the business until his passing 67 years later. He devoted his life to the company, eventually moving it to its permanent location in Newburyport, MA
.
Bob was an extremely admired, respected and loved individual within his field and community. He received the distinguished, Lumber Person of the Year award in 2010 from the Massachusetts Retail Lumber Dealers Association. Over the years, he was a member of many organizations. Among them are the International Order of Hoo-Hoo, the Hardwood Distribution Association, National Hardwood Lumber Association, Appalachian Hardwood Manufacturers Association, and Northeastern Retail Lumber Association. In addition, Bob showed his commitment to the local community by serving on the Newburyport Chamber of Commerce and Rotary Club.
In his youth Bob was an outstanding Swampscott High School athlete, contributing to the football, hockey, and baseball teams. He went on to play college football at North Carolina State. For many years he was involved with Marblehead's youth football and shared a life-long enjoyment of playing golf with family and friends. A dedicated sports fan, Bob attended every Thanksgiving football game between Marblehead and Swampscott until he was unable to go. As a former Swampscott star player, he always bet on Swampscott to win. Bob's Swampscott roots ran deep!
Bob loved his family home on New Hampshire's Squam Lake and shared many fond memories with family and friends there. Being out on his pontoon boat with his family made him so happy. He loved playing cribbage. Bob made a point of teaching all his grandkids to play and was always challenging them to a game. Of course, the best times were when the kids beat him. For many winters, he spent wonderful vacations at 'Tween Waters in Captiva, Fl.
He is survived by his devoted and loving children: Gwendolyn Keiver-Hewett and her husband Tom, of Salem, MA; Pamela Rodgers of Marblehead, MA; Nancy Goodrow and her husband Patrick of Eliot, ME; and Patricia Heintzelman and her husband Webb of Newburyport, MA. Bob also leaves his 9 adored grandchildren: Sadie Barlow (Kevin); Tyler VanVeghten; Carl Rodgers; Joe Rodgers (Michele); Josh White (Kaylyn); Sam White; Jack Heintzelman; Steven Heintzelman; and Ben Heintzelman; and his beloved five great-grandchildren: Brady, Emma, Connor, Liam and Olivia. Sister-in-laws Joan Keiver and Pam Healey (Dan), along with several nieces and nephews survive him. Bob loved the time spent with his good friend Audrey Kennedy and with her entire family. Audrey predeceased him by one month.
Bob will be remembered for his warm smile, integrity, kind disposition, firm handshake, ability to look you in the eye and ask, how you are doing, making people comfortable, and his genuine interest and love of people and life. He is a great example of a life well lived.
Visitation will be held on Tuesday Nov 15, 2022, from 4-8pm at the Conway, Cahill-Brodeur Funeral home, 82 Lynn St Peabody and His Funeral will be held at the Old North Church in Marblehead, MA on Nov 16, 2022, at 10:30am. In lieu of flowers please donate to the Squam Lakes Natural Science Center in Holderness, NH. For directions and on-line obituary, visit www.ccbfuneral.com
Source: Conway, Cahill-Brodeur Funeral Home