Obituary: Steven Floyd Schaeffer
Steve (known to most as Stash) died in his home on Friday, December 16, 2022 of bulbar amyotrophic lateral sclerosis (ALS).  He was 71.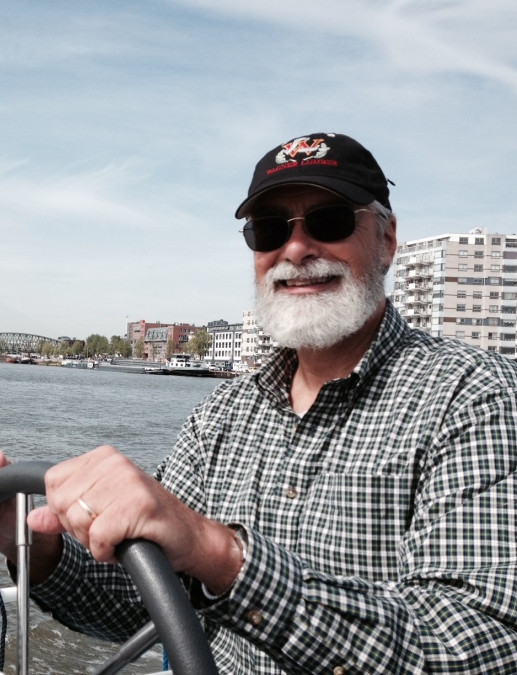 He is survived by Marcy, his wife of 42 years, his children Kelsey Gardner of Ithaca and Julie Schaeffer-Santarelli (Bruno) of Concord, Mass, his granddaughter Renata Schaeffer Santarelli, and his warm-hearted sister Christine Ossont of Utica, NY whose children, grandchildren and great grandchildren have entertained, shared love and many good times.
Steve was born on April 7, 1951 and raised in Sidney, New York by his parents Walter Martin Schaeffer and Coralyn Doolitte Schaeffer. The family belonged to the First Congregational Church of Sidney.
Boy Scouts and Boy Scout Camp provided some of the most memorable moments of his young life. He was inducted to the Order of the Arrow at Crumhorn Mountain Boy Scout Camp, rising further to become an Eagle Scout.
In addition to good times at camp, the scouts gave him a taste for making a little money by trading and selling Boy Scout patches, a hobby that grew until he was managing one of the biggest collections in the Northeast.
While attending Sidney High School, Steve was influenced by two Rotary foreign exchange students hosted by his family, one from Thailand and the other from Panama, as well as by his own adventures as an exchange student to Holland. This exposure to other countries and cultures was the start of his insatiable travel habit.
Basketball was his sport of choice, playing first under the hoop on his garage and then at a community park basketball court four miles from home. Many hours were spent on the court at the Tioga County Boys and Girls Club where, even after he began working, he spent his lunch hours playing pick-up games with friends before dashing back to his desk. Work hard, play hard was how his family describes him.
Although he enjoyed all of the game's formats, three on three games were his forte, most recently winning him a title in Vermont in his 60's, thanks to his willingness to hustle up and down the court. He shared his passion for the game with Kelsey and Julie whom he coached on and off the court from their elementary days through high school.
In 1969, Steve was accepted by Cornell, creating educational and professional opportunities and the chance for new friendships that would affect every aspect of the rest of his life.
After graduating with a degree from Cornell's ILR School, he went to work at the First National Bank of Sidney, but then went back to school for an MBA in finance while working at Citizen's Savings Bank in Ithaca.
But, the MBA program wasn't for him, so he increased to full time at the bank while still keeping up with poker games at his fraternity, Sigma Nu. This habit of making unbreakable bonds with friends was a hallmark of his life.
And, it was at Sigma Nu that he met his future business partner, Les Wagner, better known as "Wags" to his frat brothers.
At the time, Wags was operating a part-time one-man sawmill when he got interested in the log cabin building-business. He invited Steve to go look at a few sawmills in New England to see how the cabins were being built.
They had fun on the trip and decided to go into business together. Wags worked as the engineer and sawyer while Steve was the self-described "grunt labor".
Sigma Nu also introduced him to Marcy Clark when he attended the wedding of a frat brother in 1979. The couple married the following year and raised their two beloved daughters in Ithaca.
Like most companies, the growth of Wagner Companies had to survive downturns in the economy and in their markets over the decades. While Wags mastered the evolving engineering aspects, Steve was in charge of HR, finances, and the fancy footwork of looking for alternative markets in China when the US furniture market collapsed, and increasing board length options to suit the fickle housing markets.
Forty years after they started, their two-man operation had grown to over 300 employees and four sawmills – the biggest hardwood company in the Northeast – when they sold it in 2012 and were asked to stay on as consultants.
After the sale of the company, Steve's schedule at the company eased a bit. This allowed Steve and Marcy to travel extensively for five years, using their apartment aboard The World as a launching point to explore Japan, the Solomon Islands, France, and many other places further afield.
Winters in Naples, Florida also became part of the couple's routine. Warm days on the Gulf of Mexico gave Steve a badly-needed chance to work on his Pickleball shots while making new friends with his on-court antics. It was also an opportunity to sort through his stamp and postcard collection, selecting the perfect specimens to delight his friends and family.
As much as he enjoyed their exotic forays overseas, Steve was happiest when captaining a boat along the canals of Holland. The cafes along the water, with their exuberant celebrations, everyone wearing orange and toasting each other with Heineken, were an irresistible lure to him, drawing him and his family back more than a dozen times over the years.
And, when dinnertime rolled around on these floating holidays, Captain Steve and his all-female crew disembarked on their bicycles in search of the next great Indonesian restaurant where Steve's fluency in Dutch and his obvious enjoyment of the country endeared his whole family to proprietors, servers and other guests alike.
Back home in Ithaca, watching Cornell basketball and wrestling was a must, instigating a group of friends to attend NCAA Wrestling matches every year.
In the end, Steve was known for his sweet and humorous nature, his enduring friendships with classmates and colleagues, his willingness to listen and his knack for making the most out of even the most unusual of circumstances.
The family's philanthropy includes Educate the Children in Nepal, as well as their own private foundation.
To protect those he loved so much, there will not be a memorial service, but please enjoy your favorite beverage and share some good times with good friends.
Flowers are most gratefully declined, but for those wishing to make a contribution in Steve's name:
Please consider the following:
Please stop in to make a donation in person or please send a check to the Tioga County Boys and Girls Club in Owego, NY.
Educate the Children at www.etc-nepal.org/
Hospicare at ­www.hospicare.org/
Donations in Steve's name may also be made to the Sean M. Healey & AMG Center for ALS at Mass General Hospital at giving.massgeneral.org/donate or checks can be mailed to: Massachusetts General Hospital, Development Office, 125 Nashua Street, Suite 540, Boston, MA 02114. 
Steve's ALS doctor's research fund https://www.n*ova.edu/giving/Locatelli-ALS-Research
Source: Bangs Funeral Home