Obituary: John Heying
John Heying, age 83, of Calmar, IA, passed away on December 20, 2022, at Ossian Senior Hospice.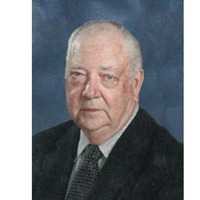 Mass of Christian Burial will be held at 11:00 a.m., Friday, January 6, 2023, at St. Aloysius Catholic Church, 304 South Maryville Street, Calmar, IA, with Rev. Henry Huber presiding. Burial will be in the church cemetery with military rites.
Visitation will be from 4:00-7:00 p.m., on Thursday, January 5, 2023, at the Helms Funeral Home, French Chapel, 202 South Washington St., in Calmar, IA, and after 10:00 a.m. on Friday at the church. Helms Funeral Home is handling arrangements.
John Joseph Heying was born June 27, 1939, in Winneshiek County to Joseph and Rose (Bohr) Heying. He was born the middle child of a family of 13. John attended St. Mary's Catholic Grade School in Festina and graduated from Calmar High School in 1957. Following high school, John enlisted in the Army where he spent 18 months in Germany in charge of artillery. While in Germany, John traveled to Rome and was able to see the Pope while visiting the Vatican.
John married Louise Zweibohmer on September 9, 1961, at St.Francis DeSales Catholic Church in Ossian. To this union six children were born: Jeffrey, Jerry, Jennifer, John, Patrick, and Jacolyn. John spent his working career in the lumber industry. He started as manager of the J.F. Anderson (UBC) Lumber Company. In 1971, John, along with his brother Ernie, started Heying Lumber and Manufacturing Company. John retired in 1996. He was very active in the Calmar Community. John was a member of Calmar City Council, Calmar Commercial Club, St. Aloysius Church and choir, South Winn Country Club, the Lions Club, and the Fort Atkinson VFW. John enjoyed woodworking and made cedar chests, beds, and curio cabinets for his children. He also enjoyed fishing, with many trips to northern Minnesota with his sons, hunting, playing cards, and attending his grandchildren's many activities. John spent his entire life cheering for his beloved Chicago Cubs and had the special memory of attending the winning playoff game against the LA Dodgers which led to the Cubs winning the World Series in 2016.
John is survived by his wife, Louise (Zweibohmer) Heying. Children: Jeff (Melissa) Heying, Calmar, IA, Jerry (Maribeth) Heying, St. Paul, MN, Jennifer (Mark) Osmanski, Mint Hill, NC, John (Deanna) Heying, Calmar, IA, Jacolyn Pavlovec and Matt Pavlovec, Rosemont, MN. Grandchildren: Taylor (Ethan) Meng, Jerod (LeAnn Ramirez) Heying, Nicholas (Jolie) Heying, Elisabeth (Bruno Suarez Bango) Heying, Benjamin Heying, Frank (Jenna Larson) Osmanski, Gabrielle Osmanski, Sam Osmanski, Katelyn Heying, Alison Heying, Thomas Heying, Charlie Pavlovec, and Ella Pavlovec.
Siblings: Ernie (Kay) Heying, Doris Bouska, Carl (Carol) Heying, Lorna Bouska, Robert (Tina) Heying, Mary Ann Trewin, and Sue Heying. Brothers and Sisters-in-Law: Pat Heying, Marion Heying, Lee and Lois Meinert, Mary Lou Zweibohmer, Jim and Carol Zweibohmer, Larry and Connie Zweibohmer, Patti Larson, David Zweibohmer, and Norma Glass.
He was preceded in death by his parents, Joseph and Rose Heying;  a son, Patrick;  a grandson, Jacob; his father and mother-in-law, Greg and Esther Zweibohmer; his brothers, sisters, and in-laws: Paul Heying, Greg and Helen Heying, Helen and Melvin Hageman, Dennis Heying, Betty and Jim Bruess, Jim Bouska, Cletus Bouska, Dick Trewin, and Greg Zweibohmer.
Source: Helms Funeral Home