Building Gurus: How To Adapt For Success: Change Management

Throughout my life and career, I have had events happen that have necessitated a major shift. It might have required a physical move, a mental refocusing or even a new job or career move. I know I am not alone in this. Individuals and businesses face change every day.
As I move forward from an event, I find being flexible and adaptable always makes them go more smoothly. No matter what comes at me, my reaction to it could be the worst part! When I keep my calm and don't swim against the tide, life settles itself and I move on to bigger and better things. When I fight and hide and pretend it isn't happening…well nothing good comes of it.
Businesses need to learn that same lesson quickly if they want to succeed. Focus on change management and adapt.
Successful Companies Know This Already
If you think of any big name company in any industry, the last 25 years have probably brought them major changes. In the residential building products industry, certainly, huge things have happened since 2008. Almost everyone downsized, many organizations have closed and some companies totally shifted their business model and focus.
Think about the companies you admire and what the have done in the last 10 years to emerge better and stronger.
When statistics say 20% of businesses are lucky to survive their first 3 years of business, you know adapting to change is a very necessary skill. There are habits and strategies your business can learn from the winners and plug into your own plans.
What To Avoid
Planning for change or implementing change management policies and procedures takes time and work. But, doing it right once will save you in the long run. I start any plan I make (personal or business) with envisioning what I want to see happen and what I clearly want to avoid.
Companies who don't adapt well and aren't prepared for changes have pretty clear steps they take that lead to issues.
They aren't sure of what their teams want or need
They are overly cautious and negatively react to change
Their employees aren't being motivated or inspired
They wait to react instead of being proactive
They don't think about the need for change or plan for it
Settling for "good enough" is the status quo
They think past success = future success with no change required
If you see yourself or your company in any of those statements, you are probably ready for a bit of a change.
What To Embrace
So, what do winners have that sets them apart? Well, first they accept change is inevitable. They know it is better to realize change will come and plan for it than to let it surprise you.
Winning companies look short-term, middle distance and very long-term
They are pro-active in almost every area of business, including change
Confident, positive leadership that inspires employees abounds
They welcome and nurture innovation and technology
They are open and share their successes and vulnerabilities
Emphasis is placed on understanding their customers' wants and needs
They value feedback and truly listen
They empathize and are able to see things from everyone's standpoint
When you look at the difference between those companies struggling with change and those embracing it, you should see there are some very clear differences. To me, winners look forward with open arms. Challenged organizations look backward or keep blinders on and hope for the best.
Make A Change & Then A Plan
If you see there are changes your company needs to make, start working on it now. Change management and preparation aren't things that can be shifted to the back burner – they are urgent needs.
First, I would recommend you sit and talk openly with your employees. What issues do they see and suggestions do they have?
You will likely walk away from those meetings very enlightened.
Next, start working on a plan.
What issues/needs for change do you anticipate in 1 year?
How about in 5 years?
What about in 10 years?
What are worst case scenarios and how do you prepare?
Is there technology that could assist?
What outside help should you look at?
Keep in mind change of any kind is scary and will be met with some resistance. Changes to everything will be overwhelming to even the most intrepid employees. Figure out what really needs to be changed and an acceptable timeline that makes progress but doesn't disrupt unnecessarily. Communicate often and openly with your teams.
Getting everyone on board will take time and you may lose some employees. When someone leaves, find out why – were they scared of the changes, unhappy with the new environment or were things handled and communicated poorly? The feedback will help you as you move forward.
Companies in the residential building products industry who embrace innovation and recognize the need to adapt will weather storms, come out better and be stronger for years to come. Start thinking about how you can adapt for success.
To view the original post, click here.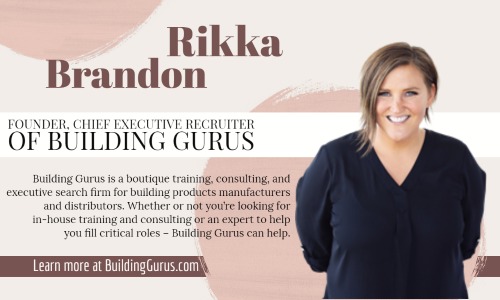 Source: Building Gurus