BuildDirect Enters Marketing Partnership with Wedgewood's Maverick Design

 BuildDirect.com Technologies Inc. (TSXV: BILD) ("BuildDirect" or the "Company"), a leading omnichannel building material retailer, is pleased to announce that the Company has entered into a partnership with Maverick Design ("Maverick"), the award-winning interior design studio at Wedgewood Homes, a division of Wedgewood LLC ("Wedgewood") to launch a white-label marketing program for a collection of quality Maverick-branded engineered wood floors – The Maverick Design Wood Flooring Collection (the "Collection").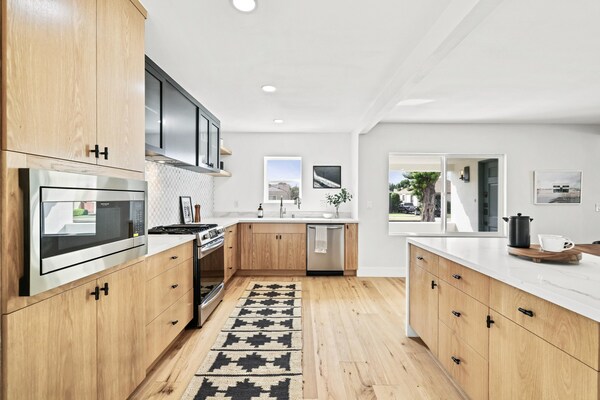 Maverick Design specializes in the renovation, revitalization, and reimagination of homes and commercial projects across the United States. "Our design team selects flooring for hundreds of homes a year, and it is our passion to deliver timeless designs that appeal to today's buyers. Our partnership with BuildDirect not only allows us to have access to the Collection of quality flooring for our homes, but could also pave the way to explore opportunities for additional product collections in the future," says Jessica Sommer, VP of Maverick Design.
Under the partnership, BuildDirect will merchandise the Collection on its e-commerce platform to support Maverick's brand, product awareness and sales. Additionally, Maverick's marketing initiatives will share installations and experiences with their audience to encourage customer traffic and onsite conversions for the Collection on BuildDirect.com. Maverick will also share the product line with their audience through the Company's website.
"We are delighted to partner with Maverick, a well-recognized creative and interior design studio," said Shawn Wilson, CEO of BuildDirect. "This partnership represents our ongoing efforts to leverage BuildDirect's e-commerce platform to provide white-label solutions to companies that are looking for marketing avenues to grow their brand."
About Maverick
Maverick Design is an award-winning design and creative studio specializing in the renovation, revitalization, and reimagination of homes and commercial projects nationwide. Maverick Design is the creative division of its larger parent company, Wedgewood Homes, a privately held real estate company operating  across the United States with a rich history in revitalizing communities, one home at a time. Wedgewood, the parent company of Wedgewood Homes, has been in business since 1985.
About BuildDirect
BuildDirect (TSXV: BILD) is a leading omnichannel building material retailer. BuildDirect connects North American home improvement B2B and B2C organizations, and homeowners with quality building materials and services through its robust global supply chain network. BuildDirect's growth trajectory, strong product offering, and proprietary heavyweight delivery network are delivering value today, solidifying its position as an innovative player in the home improvement industry. For more information, visit www.builddirect.com.
Contact:
Alicia Mistry – Maverick Media Contact – alicia@wicked.is
SOURCE BuildDirect.com Technologies Inc.