Interfor Reports Q4'22 Results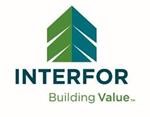 Interform Corporation ("Interfor" or the "Company") (TSX: IFP) recorded a Net loss in Q4'22 of $72.2 million, or $1.40 per share compared to Net earnings of $3.5 million, or $0.06 per share in Q3'22 and $69.7 million, or $1.15 per share in Q4'21.
Adjusted EBITDA was a loss of $68.7 million on sales of $810.3 million in Q4'22 versus Adjusted EBITDA of $129.5 million on sales of $1.0 billion in Q3'22 and Adjusted EBITDA of $149.5 million on sales of $675.9 million in Q4'21.
Notable items in the quarter:
Moderating Lumber Demand and Lower Prices

Lumber demand moderated during the quarter due in part to rising interest rates across North America, contributing to significantly lower lumber prices quarter-over-quarter. Interfor's average selling price was $699 per mfbm, down $101 per mfbm versus Q3'22. The SYP Composite, Western SPF Composite, KD H-F Stud 2×4 9' and ESPF Composite price benchmarks decreased quarter-over-quarter by US$94, US$130, US$166 and US$159 per mfbm to US$461, US$420, US$461 and US$498 per mfbm, respectively.
The decline in lumber prices contributed to the Company recording $58.6 million in log and lumber inventory valuation adjustments in Q4'22 compared to $20.5 million in Q3'22.

Lumber Production Balanced with Demand

Lumber production totaled 874 million board feet, representing a decrease of 112 million board feet quarter-over-quarter. This decrease reflects temporary production curtailments during Q4'22, primarily related to economic conditions and market uncertainty impacting lumber demand and to accelerate ongoing capital and maintenance projects. The decrease was partially offset by the Eatonton, GA and DeQuincy, LA sawmills ramping up to designed production capacity, and the acquisition of Chaleur Forest Products ("Chaleur").
The U.S. South and U.S. Northwest regions accounted for 404 million board feet and 135 million board feet, respectively, compared to 470 million board feet and 159 million board feet in Q3'22. The Eastern Canada region produced 212 million board feet, including 19 million board feet related to Chaleur, versus 198 million board feet in Q3'22. Production in the B.C. region decreased to 123 million board feet from 159 million board feet in Q3'22.
Lumber shipments were 939 million board feet, or 125 million board feet lower than Q3'22, leading to a net reduction of lumber inventories by 41 million board feet during the quarter, excluding lumber inventory acquired as part of the Chaleur acquisition. Lumber inventories ended the quarter within our target range. Interfor is continuing to closely manage inventory levels, including announcing on January 11, 2023, a temporary reduction in lumber production for Q1'23 by at least 100 million board feet mostly concentrated outside of the U.S. South region.

Financial Flexibility Maintained

Net debt at quarter-end was $720.4 million, or 26.2% of invested capital, while available liquidity was ample at $481.2 million.
On December 16, 2022, the Company completed an expansion of its Revolving Term Line ("Term Line"). The commitment under the facility increased by $100 million to a total of $600 million.
On December 1, 2022, the Company completed US$200 million of long-term debt financing with Prudential Private Capital. The Company's Senior Secured Notes now total US$489.2 million, with a weighted average interest rate of 5.30% and maturities in the years 2023-2033.

Acquisition of Chaleur Forest Products

On November 30, 2022, the Company acquired 100% of the equity interests in the entities comprising Chaleur Forest Products from an affiliate of the Kilmer Group. The acquisition includes two modern and well-capitalized sawmill operations with a combined annual lumber production capacity of 350 million board feet, a woodlands management division that manages approximately 30% of the total Crown forest in New Brunswick and the assumption of US$83.5 million of countervailing ("CV") and anti-dumping ("AD") duty deposits. The Company paid total consideration of $383.7 million, which was funded from drawings on the Term Line.

Strategic Capital Investments

Capital spending was $103.4 million, including $63.3 million on discretionary projects. The majority of this discretionary spending was focused on the multi-year rebuild of the Thomaston, GA sawmill, a new planer at the Castlegar, B.C. sawmill and upgrades to the Perry, GA sawmill.

Normal Course Issuer Bid ("NCIB") Renewal

On November 3, 2022, the Company announced a renewal of its NCIB commencing on November 11, 2022 and ending on November 10, 2023, for the purchase of up to 5,105,002 common shares, which represents 10% of the Company's public float. The Company did not purchase any of its common shares during the quarter.

Ongoing Monetization of Coastal B.C. Operations

As part of the Company's ongoing strategic review of its Coastal B.C. operations, which has resulted in the divestiture of all its manufacturing capacity in the region and several tenure transfers to date, Interfor has requested the Ministry of Forests to subdivide and transfer a number of forest tenures from its 1.57 million cubic metres of annual harvesting rights.
Subject to Ministry approval and certain contractual consents for which timing remains uncertain, the proposed tenure transfers are expected to result in approximately 558,607 cubic metres of the Company's timber harvesting rights being transferred to First Nation controlled entities, and 104,486 cubic metres being transferred to non-First Nation companies. Interfor is continuing the strategic review of its remaining Coastal B.C. timber harvesting rights, and may request approval for the disposition of additional forest tenures and permits in the future.

Softwood Lumber Duties

On January 24, 2023, the DoC issued its preliminary CV and AD duty rates of 2.19% and 6.05% for a combined all other rate of 8.24%. The rate is the result of the DoC's fourth administrative review and is subject to change until its final rate determinations which are expected in mid-2023. At such time, the final rates will be applied to new lumber shipments. No adjustments have been recorded in the financial statements as of December 31, 2022 to reflect the preliminary duty rates announced.
Interfor expensed $15.1 million of duties in the quarter, representing the full amount of CV and AD duties incurred on shipments of softwood lumber from its Canadian operations to the U.S. at a combined rate of 8.59%.
Interfor has cumulative duties of US$512.3 million, or approximately $9.85 per share after-tax, held in trust by U.S. Customs and Border Protection as at December 31, 2022. Except for US$156.8 million recorded as a receivable in respect of overpayments arising from duty rate adjustments and the fair value of rights to duties acquired, Interfor has recorded the duty deposits as an expense.
Outlook
North American lumber markets over the near term are expected to be volatile as the economy continues to adjust to inflationary pressures, higher interest rates, labour shortages and geo-political uncertainty.
Interfor expects that over the mid-term, lumber markets will continue to benefit from favourable underlying supply and demand fundamentals. Positive demand factors include the advanced age of the U.S. housing stock, a shortage of available housing and various demographic factors, while growth in lumber supply is expected to be limited by extended capital project completion and ramp-up timelines and constrained overall fibre availability.
Interfor's strategy of maintaining a diversified portfolio of operations in multiple regions allows the Company to both reduce risk and maximize returns on capital over the business cycle. Interfor is well positioned with its strong balance sheet and significant available liquidity to continue pursuing its strategic plans despite ongoing economic and geo-political uncertainty globally. In the event of a sustained lumber market downturn, Interfor maintains flexibility to significantly reduce capital expenditures and working capital levels, and to proactively adjust its lumber production to match demand.
Liquidity
Balance Sheet
Interfor's Net debt at December 31, 2022 was $720.4 million, or 26.2% of invested capital, representing an increase of $883.2 million from the level of Net cash at December 31, 2021.
As at December 31, 2022 the Company had net working capital of $452.6 million and available liquidity of $481.2 million, based on the available borrowing capacity under its $600 million Term Line.
The Term Line and Senior Secured Notes are subject to financial covenants, including a net debt to total capitalization ratio and an EBITDA interest coverage ratio.
Management believes, based on circumstances known today, that Interfor has sufficient working capital and liquidity to fund operating and capital requirements for the foreseeable future.
Capital Resources
Interfor's Term Line matures in December 2026 and its Senior Secured Notes have maturities in the years 2023-2033.
As of December 31, 2022, the Company had commitments for capital expenditures totaling $179.6 million for both maintenance and discretionary capital projects.
For the complete press release, click here.
About Interfor
Interfor is a growth-oriented forest products company with operations in Canada and the United States. The Company has annual lumber production capacity of approximately 4.9 billion board feet and offers a diverse line of lumber products to customers around the world. For more information about Interfor, visit our website at www.interfor.com.
Contact:
Richard Pozzebon – Senior Vice President and Chief Financial Officer – (604) 422-3400
Source: Interfor Corporation